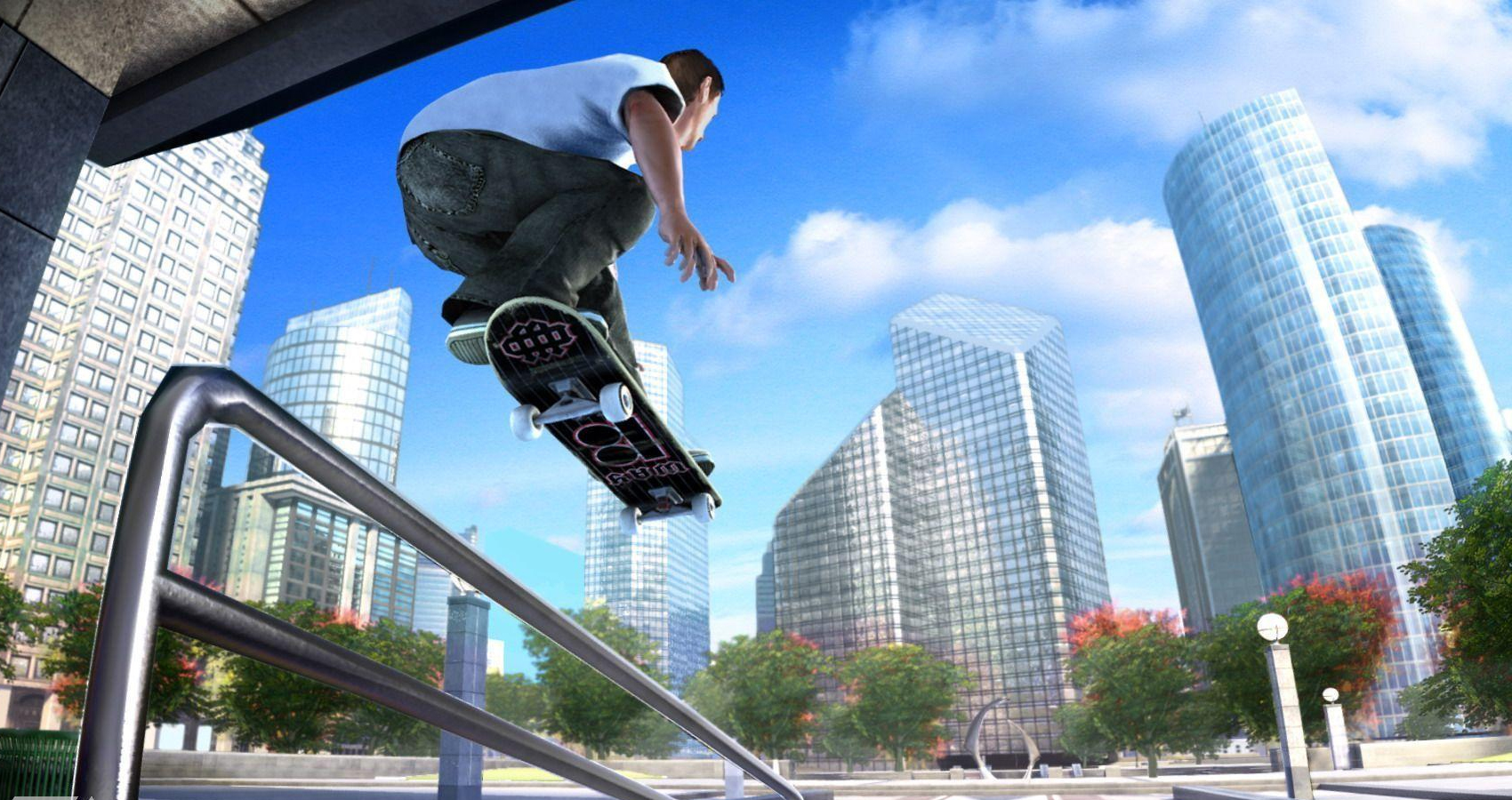 Skate Arcade: A Glance Back in Time at the Skate Games that Shaped Us
And how to play them in 2021
Let's look at all the great skate games we used to love! When everything seemed new, but the graphics were old, the soundtrack, setting, and story made a great game. Skate games allowed us to skate when we couldn't help when we were stuck at home and had nowhere to go. We learned new tricks we could attempt in the real world, and multiplayer brought us together.
In this article, I'll be going through my top 5 favorite skate games and giving you the why and how you should get your hands on them in 2021.
1. Disney's Extreme Skate Adventure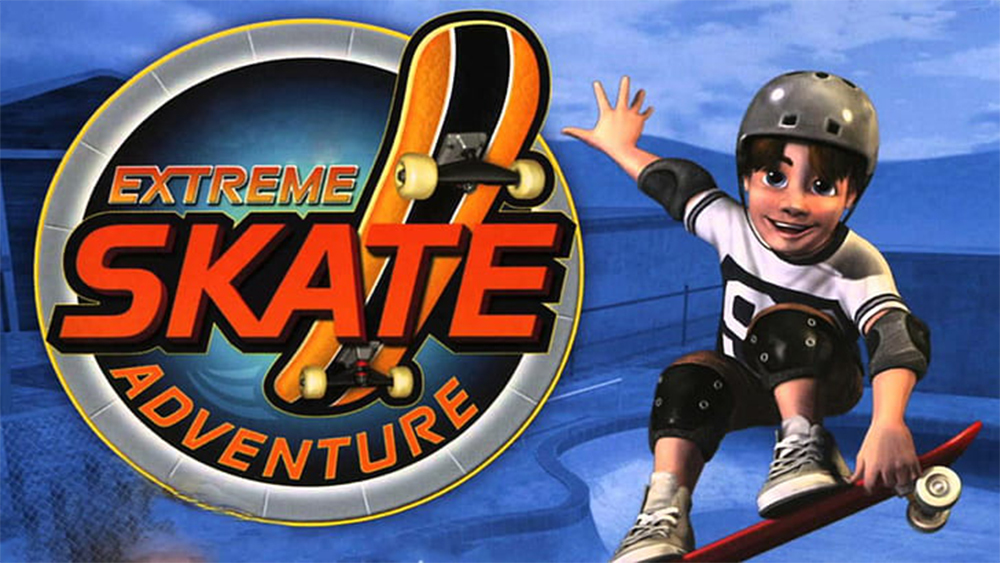 I decided to start with Xtreme sk8 adv. because it's a game so rouge it maybe shouldn't have even existed. I'm grateful it did; the punk rock soundtrack, paired with famous Disney characters/settings, made for a sick atmosphere, and the slow-paced gameplay was full of challenges, allowing you to do some gnarly tricks.
It didn't make much sense playing as a buzz lightyear skater grinding on the jungle trees from Tarzan with simple plan playing blaring in the background - but these weird combinations made for an endless amount of confusing tween-angst gameplay, and it was awesome.
Disney scouted ten real skate kids from around the globe, who sent in videos of their abilities and made them into avatars; these guys were thrown in with young Simba, Tarzan, Woody, and others with different skill sets. Adventure mode lets you move through each world, complete challenges, and build your skating career, free play lets you explore any map and do tricks, and multiplayer allows you to compete in skate games with your friends.
Ultimately Disney's Extreme Skate Adventure is a genuinely lovable game and one that deserves the utmost respect on this trip down memory lane.
Want to pretend you're in 2003 and play this game today? The good news is I have found a few ways you can, but the bad news is it may not be easy. That's okay, though, because a real fan commits.
What you're going to need is either: the original Xbox, a Gamecube, or Playstation 2 (check eBay). Then you'll need the actual game you can find on Amazon, and you're set.

Alternatively, if you are willing to settle for the low-fi version and you have a Game Boy Advance lying around, you can pick up a second-hand cartridge at a used game store. If all that fails and you want to reminisce, check out my Spotify playlist based on what I'm going to go ahead and say is still the best soundtrack of all time.
2. Tony Hawk's Pro Skater 2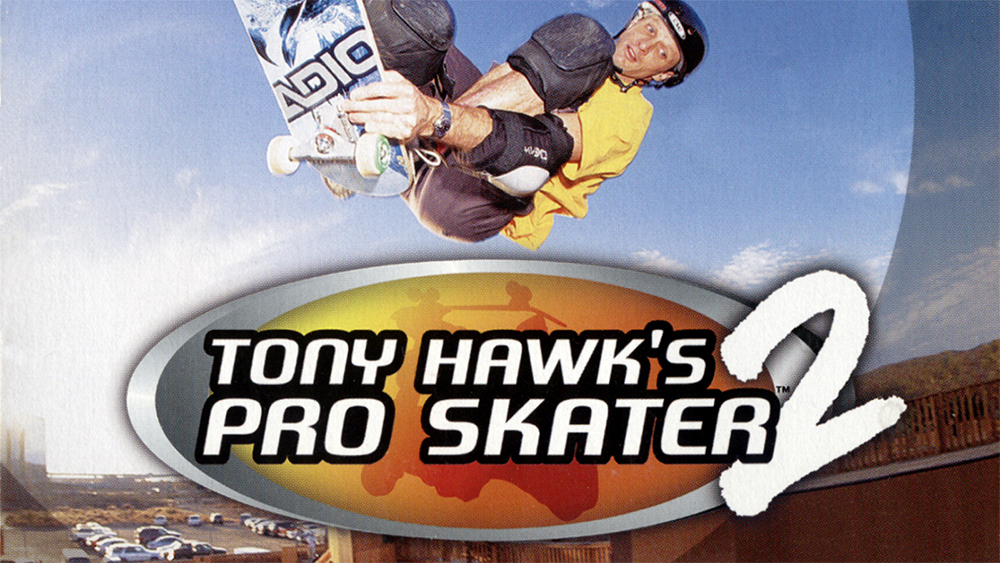 It would be sacrilegious not to mention this game. THPS 2 surpassed its predecessor and became the best skateboarding game ever and one of the best games ever made - ranking second only to The Legend of Zelda: Ocarina of Time.
I remember getting inspired by the intro every time I put the disk in. We see a skate compilation of all the skaters you can choose doing tricks to Rage Against the Machine. Bob Burnquist, Steve Caballero, Kareem Campbell, Rune Glifberg, Eric Koston, Bucky Lasek, Rodney Mullen, Chad Muska, Andrew Reynolds, Geoff Rowley, Elissa Steamer, and Jamie Thomas. You can choose from these guys or create your own skater, create your own park, then build a career, free skate, or play multiplayer. Pair all that with another wild punk/metal playlist, a cheering crowd, and stacks that spill blood - you've got yourself a legendary game.
Wanna play in 2021? You're in luck because Activision released THPS 1+2 back in September 2020. It's a revamped, remastered version of the originals with much better graphics, old and new pros, bigger soundtrack, and a vans promo pack. So far, it's on Xbox, Playstation, and PC, but it is also coming to the Nintendo Switch on June 25th.
Then again, sometimes there's nothing better than the original, sometimes you want the creepy mannequin-like avatars, and luckily there's a way to get them back. This game was initially released on Playstation 1, Dreamcast and Nintendo 64 back in 2000, then hit Mac and PC in 2001, and a lower-grade version came out for Game Boy Advanced that same year. It also made a comeback for iOS in 2010, but that only lasted until iOS7 - but if you've got a jailbroken phone, you can still get your hands on it, and you can still find the download for Mac and PC with a quick search. However, you may as well get your hands on an old console and buy the original pre-loved game to get the full experience. Either way, I hope we never let this game die out; keep the remakes coming and keep playing whatever you can.
3. Thrasher's Skate and Destroy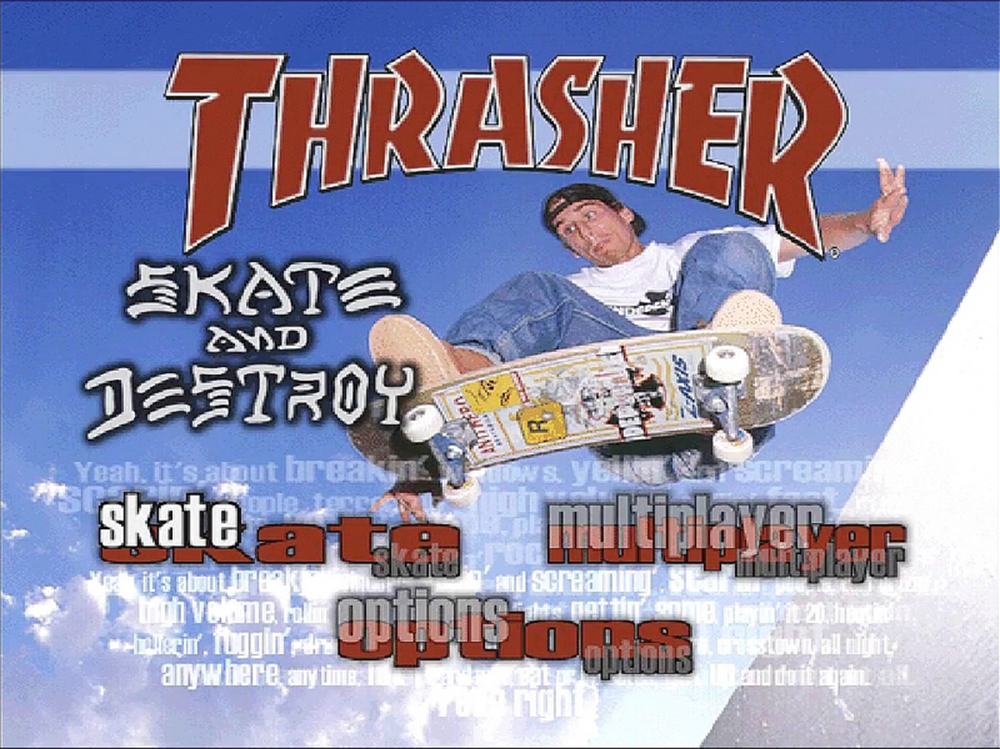 This game did not get enough hype. Thrasher Presents Skate and Destroy was one of those games that involved a bit more strategy and skill, and definitely one that deserves a title in this list. In 1999 kids and teens everywhere dreamed of turning pro and creating an empire, and if you had a Playstation, you could create a virtual world and live it out. With a dope golden age hip-hop soundtrack, the main aim was to complete all 12 levels in open and active terrains without breaking your board or bones and before you got picked up by the police (which was an excellent touch). Introducing rag doll graphics, having technical controls, and acting as a real-life skate simulator, tricks were harder to master and more rewarding, giving serious gamers a steeper learning curve. Once you complete all levels and get a high enough score, you become a 'Pro Skater' then you get to choose your sponsors before you go back and do it all again to get on the Thrasher cover page. However, this game came to life in multiplayer with seven types of 2-player gameplay, making it the best game to compete with your friends at the time. In 'Sessions,' each player had a two-minute run to do tricks and get the highest score. In 'Nickel Bag,' you compete to get the highest score on any given trick. 'H.O.R.S.E' is exactly like the basketball game; recreate your opponent's tricks to avoid getting a letter to your name. Finally, 'Top Dog' gives you different spots to come up with tricks and achieve the highest score. In 'Long Grind' the longest grind in the level wins, and in 'Big Wall Ride' the biggest wall ride in the level wins. Then there is my personal favorite, 'Sick Fix,' which takes full effect of the ragdoll physics - the player who inflicts the most damage to their person during the level gets the highest score.
If your mouth is watering to get another crack at this game, there's a will and a way. This game was exclusive to Playstation, so if you have access to the original console, the game can be found on Amazon. Alternatively, you can play this game online with an account on the 'Retro Games Online platform. So have fun skating and destroying!
4. Skate or Die!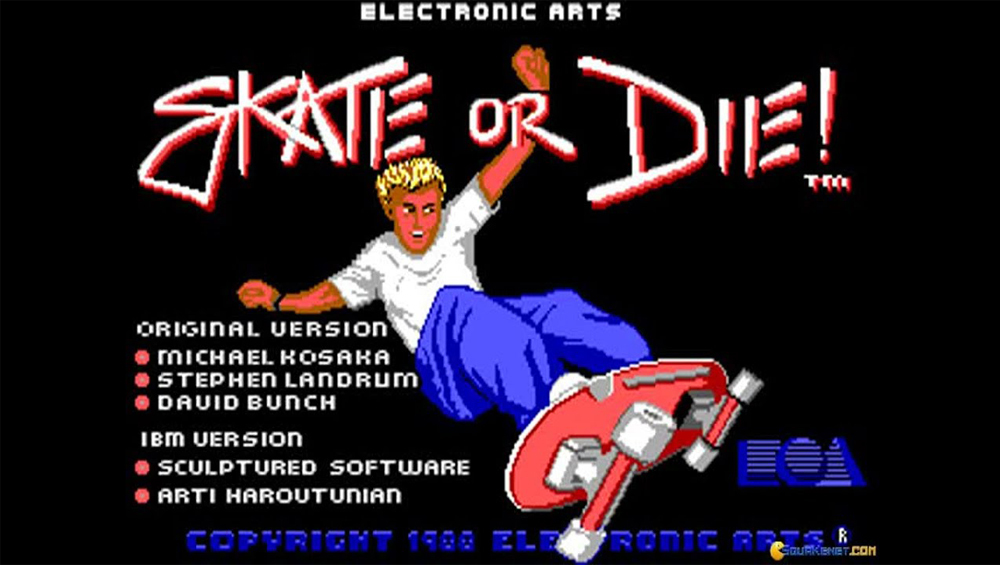 Let's go way back to '87, back to super low graphics, back to skate or die! A true gem in gaming history. This iconic arcade-style game was our introduction to a virtual skate experience. First, you choose your character Rodney Recloose, Bionic Lester, Poseur Pete, or Aggro Eddie. Then you compete in five events - ramp freestyle, high jump, downhill race, downhill jam, and pool either individually or sequentially. Finally, if you choose the sequence, you can take turns with your friends set to a fast-paced Digitech soundtrack.
So how do we play today? Well, you can also play online at Retro Games. Still, if you want the full 80's experience, this game was released on NES, Commodore 64, DOS, ZX Spectrum, Atari ST, Amstrad CPC, and eventually Wii; so if you have any of these, you can still find the game and play!
5. Skate.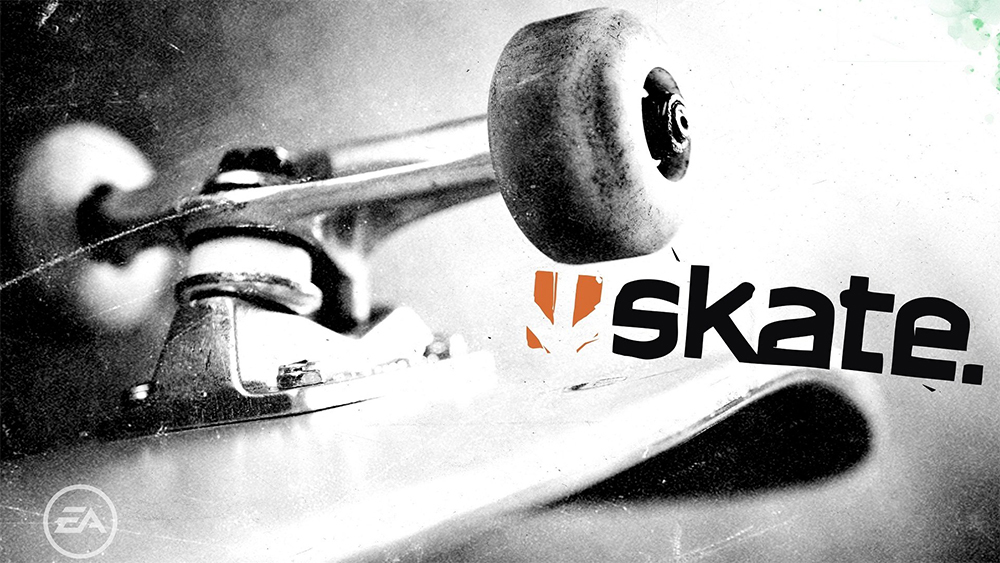 Okay, let's go a little further into the future with Skate. Released in 2007 for Xbox 360 and Playstation 3, this quickly became many people's favorite skate game. Skate was able to iron out the kinks of Skate and Destroy and combine the best attributes of the Tony Hawk series into one game. In story mode, your character is hit by a bus, then taken to a local hospital, and on the way, we meet the pro skaters in the game as paramedics, street rats, and locals in what is probably the coolest intro to a game ever made.
Next, your character undergoes plastic surgery, and this is where you customize your skater with options drenched in sponsor product placement. Next, you're released out into the city to compete in challenges, videos, and magazine covers set up by pros; Danny Way, Paul Rodriguez, Jason Dill, Ryan Smith, Terry Kennedy, Jerry Hsu, Pat Duffy, Chris Haslam, PJ Ladd, John Rattray, Alex Chalmers, Mike Carroll, Ryan Gallant, Dennis Busenitz, Rob Dyrdek, Mark Gonzales, and Ali Boulalaand. Then with enough coverage, you unlock the X Games. The free play on this game is super realistic, and you get to skate around the city of San Vanelona, weaving around pedestrians. The multiplayer is also similar to Skate and Destroy in the fact you get to play with your friends in 'races,' 'S.K.A.T.E' - which is basically horse, and 'Own the Spot' - where you compete in a certain spot to get the highest score. The soundtrack also makes this game; it's mainly hip-hop with some punk rock thrown in and even has original tracks by individual artists.
All in all, a great game and definitely one worth playing from start to finish. Here's how - this one is a lot easier to get your hands on today because the Xbox 360 and Playstation 3 are still relatively recent, so if you have your old consoles, this game can still be found at a lot of used game stores. Alternatively, if you have an Xbox One, this game works on the platform. A watered-down version of the game was also released for iOS, so if you have a jailbroken phone, you can play in 'Trasher Mode' and 'Free Play.'
Conclusion
We couldn't list all the games we knew and loved, but here are my top 5, and I recommend getting hold of these one way or another to experience the full wonder of low graphic, punk rock, ragdoll nostalgia. In the meantime, we've got Skate 4 to look forward to, which is planned to release in 2022, and Tony Hawk's Pro Skater 1+2, which you can take get your hands on now for Xbox and Playstation, and the Nintendo Switch version, which is coming very soon.
Happy gaming!