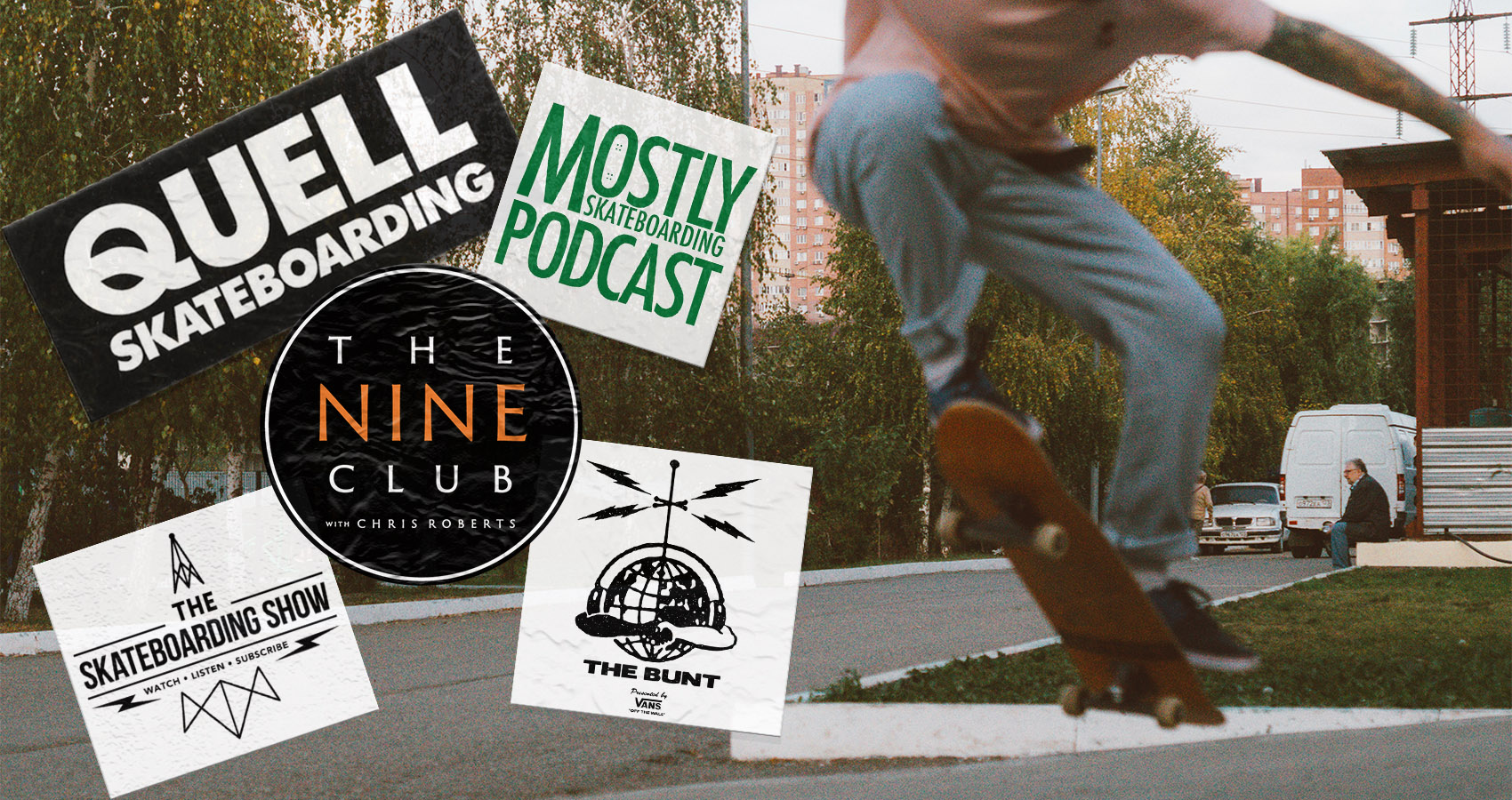 5 Great Skateboarding Podcasts
Our pick of the bunch
Many of us enjoy skateboarding (obviously) and podcasts separately, but what if I told you that there are actually a lot of great, entertaining skateboarding podcasts out there? We've compiled 5 of our personal favorites for you in the list below.
#1 The Nine Club
The Nine Club, hosted by Chocolate Skateboards pro skater Chris Roberts with a plethora of ever-changing co hosts including the likes of Roger Bagley and Kelly Hart. The Nine Club produce 3 shows a week with the main show on Mondays, a live show on Wednesdays and a 'Stop and Chat' show on Fridays, so there's a steady flow of episodes for you to get through. With episodes featuring guests like Steve-o, Lil Wayne and Bam Margera mixed in with some really interesting skaters like Chris Chann and Austin Gilette, you're sure to be entertained.
#2 Mostly Skateboarding
Mostly Skateboarding is a weekly discussion of current events in skateboarding with Templeton Elliot, Mike Muzenrider and Jason from Frozen in Carbonite. The trio discuss a range of topics each week from skateboarding news, skate etiquette, skate mysteries to griptape and graphics. With hundreds of episodes to get through and some compelling conversations to get involved with, the Mostly Skateboarding podcast takes a well deserved place in our list.
#3 The Skateboarding Show
The Skateboarding Show, hosted by Brett Dye is made up of shorter form news and interviews from the world of skateboarding. The first podcast in our list from outside the US, it gives an interesting insight into skateboarding across the pond, interviewing British skaters and covering British skateboarding events like NASS Festival and Boardmasters. A great introduction to the British skate scene and some interesting informal conversations, The Skateboarding Show is worth a listen.
#4 The Bunt
Presented by Vans, The Bunt is a weekly podcast covering the latest in skateboarding. Hosted by Cephas Benson and Donovan Jones and widely regarded as 'the best skateboarding podcast' which is unsurprising with it being a product of Vans. With over 170 episodes featuring some of the biggest names in skateboarding. If you didn't already know about The Bunt, it's sure to become a favorite.
#5 Quell Party
From Quell Skateboarding, Quell Party is a self proclaimed 'non traditional skateboarding podcast' that invites guests from all parts of the skateboarding community to shed light on their personal stories and experiences. Quell party have some greatly insightful discussions with some incredible people, Annie Guglia, Zorah Olivia, Cindy Whitehead and Eunice Chang to name a few. With a lot of important conversations and inspiring stories, Quell Party is a refreshing take on modern media.
Speed on over to the DOSE store to get your hands on some shirts and hoodies.
FOLLOW DOSE ON INSTAGRAM @DOSESKATEBOARDING