Check Out our Interview with Mario Realegeno
The skater and artist has ambition for days
A little while back, we here at Dose brought you a new video with skater Mario Realegeno. We spent time with him in Downtown LA, and it was an awesome experience. There is more to the Californian that just skating, though, as Realegeno is also an impressive artist in addition to his skateboarding skill. Basically, he's an interesting dude, the kind it is well worth sitting down with for an interview. What did Realegeno have to say about his passions, and what his future holds? You'll have to watch to find out. Thanks to Realegeno for the interview opportunity, and to photographer Justin Crawford who shot these fabulous photos to go along with the chat.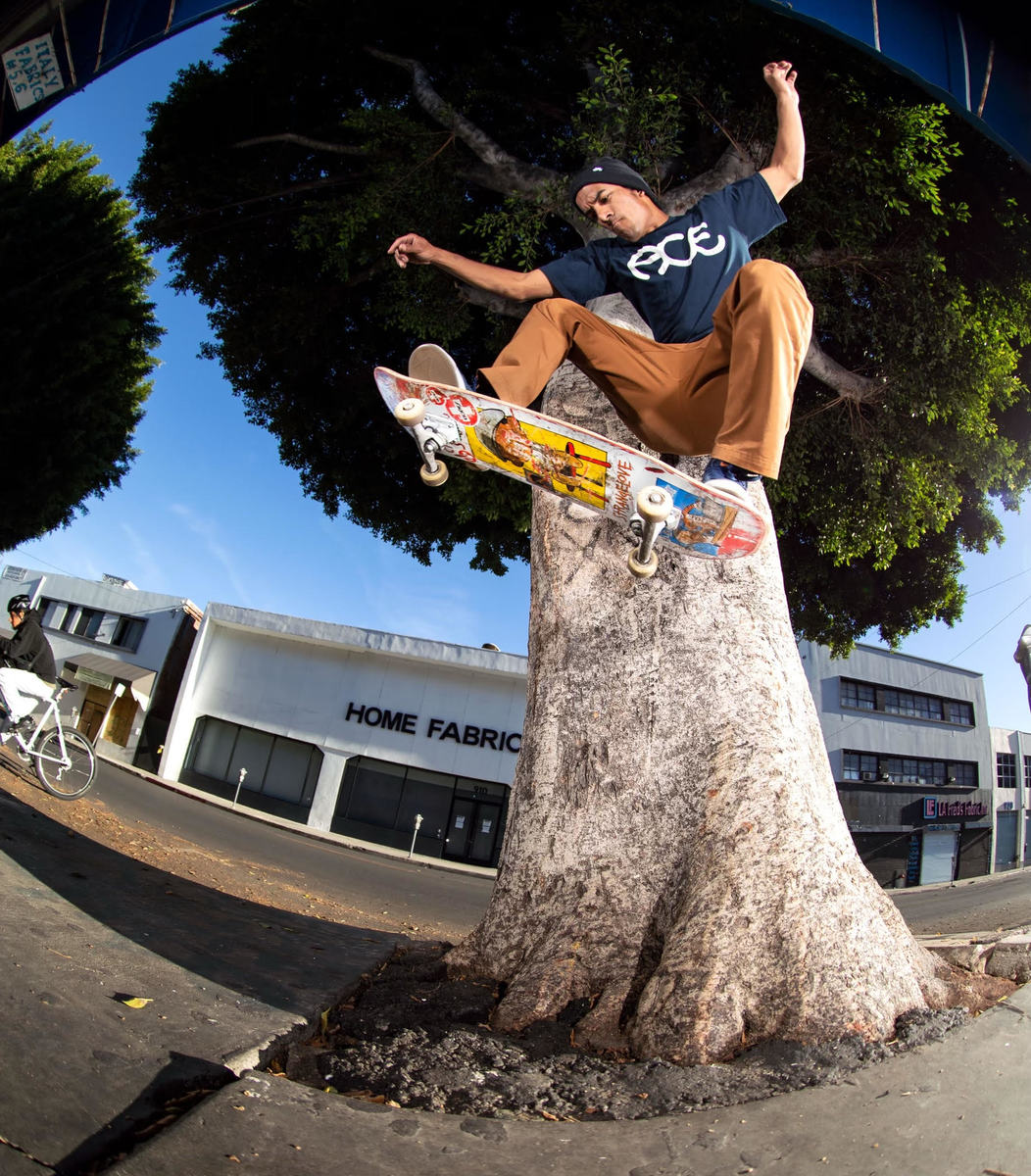 What's up Mario, how are you doing right now?

How's it going guys, I'm doing alright I'm thinking of what to make for dinner.

You shot a part for us a few months back in Downtown LA. What has happened since?

Mainly I've been skateboarding and working on my art. Finding the balance with life while keeping occupied and productive. Enjoying the ride. I mean because of Covid many things are limited - so I have been doing my street homework looking for things to skate. Taking it one day at a time.
"LA is my home always and forever."
You're born and raised in Los Angeles, what is that like?

I would say it's a blessing. LA is my city and I love that I grew up here. It can be taken for granted at times, then you leave and travel and realize that it really is the best place to be. I can go to the beach in the morning to relax and then go on a hike in the mountains in the afternoon, all in the same day if I really wanted. Not many places I can say are like that. Beautiful skies, colors that look like a Van Gough painting– I can go on. LA is my home always and forever.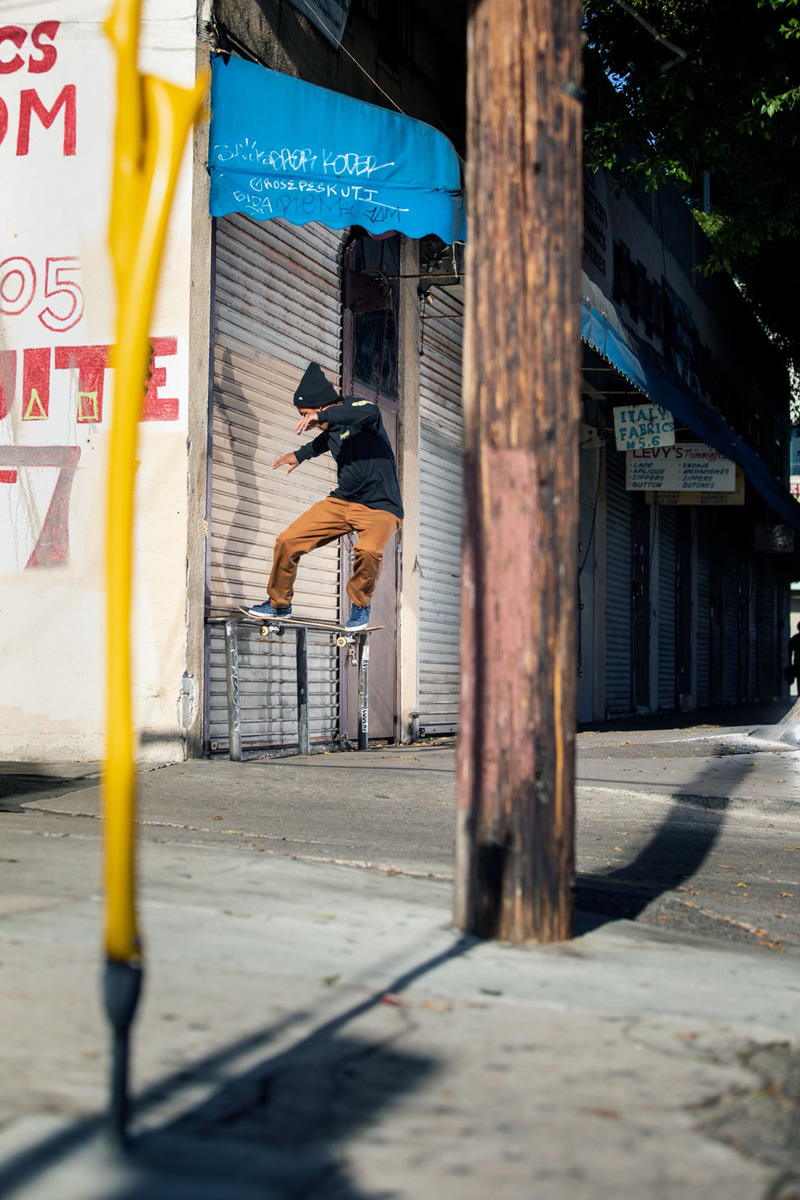 What does a typical day in your life look like?

Depends if I am working or not. If I am working doing the 9-5 it's the same routine, wake up and do that whole grind. Or if I have a flexible schedule, as soon as I wake up skating is on my mind so I just get out the house. We're all sick of the daily grind, all I want is my daily grind!
Besides Skateboarding you're a passionate artist. How did you get into art?

When I was in middle school I went on a field trip to a museum and that was my first introduction to art. It was the first time I looked at paintings, sculptures, mixed media works by many great artists, I specifically remember a Picasso painting during his Blue Period. Blue is my favorite color so that panting really had me frozen; I stared at it for a while. Some others too including a few from Monet, and Van Gough. Seeing how they put colors together made me really appreciate what I was looking at, I went back to school and just started drawing on my desk just doodling anything I imagined. I was inspired by all the artwork I had seen. To this day if there is a pen or anything that I can draw on within reach I will.
We saw you skating on rooftops on Instagram, is that something you mainly do to get a good Instagram clip or for the Adrenaline?

I do it because I love it. I do it for myself. If I go over that's it and I always loved heights! I can proudly say I've covered 75% of DTLA buildings, aside from the main corporations and banks. It was like the game Ghost Recon. I have to sneak into this building and make it to the top floor undetected, haha. The views also make it worth it!
You know skateboarding before Instagram. How has skateboarding changed since?

Well, you open your IG explorer page and you see an endless amount of tricks. Just a few years ago pros would have saved those up for years to have in their videos! There aren't that many full-length films or skateboarding tours now, just more individual parts. I grew up waiting years for skate videos to be released, and team demos too. I'd go to the skate shop and actually purchase the DVD, even VHS tapes, and just watch them over and over. Instagram has pressed the fast forward button to LUDICROUS SPEED! It's an instant dose of worldwide skateboarding and the best skating all on Instagram done by people of all ages. You can scroll down on a NBD (Never Been Done trick) today and it's been forgotten by tomorrow. Everyone is racing to the top! It's self-promotion at its finest. Fashion is also getting a piece of the action. I remember being made fun of for having a skateboard when I was in high school and got so much shit for having holes in my shoes and on the back of my shirts. Even some teachers would give their two cents haha. So there is that aspect as well which promotes wider acceptance, everyone is expressing themselves because they can and IG allows their voice to be heard. It has changed everything for everyone, no matter how big or small.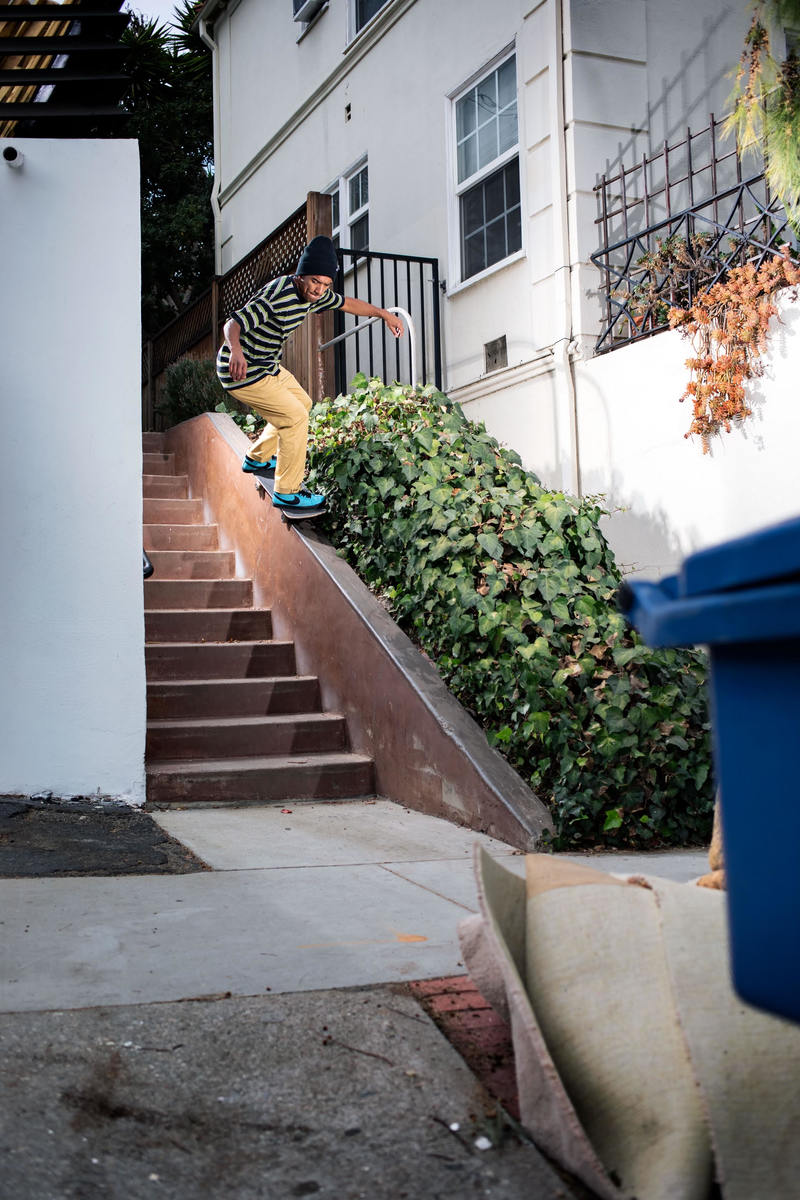 How often do you shoot/film/produce content?

Whenever I can and when my friends are able to meet up to shoot I'm all for it. I would like it to be everyday!
Just because I don't always post on IG does not mean I'm not on my board or up to something. I'm always working.

Are you feeling a need that you HAVE TO produce content because of Instagram?

No way! If there was no Instagram I would still be out there solo or with my friends documenting what we can and landing our clips/ rolling away. It's a team so we all roll away if we get the clip. Instagram is a tool and I'd rather put out something valid. I choose to produce "content" because I am a skateboarder and an artist so it's part of what we do. I would do this no matter what though! It's my drive and it's what my heart calls for.

How did you meet Justin and Michael, it seems like they are your go-to film and shooting crew?

I met Justin through some homies from Chicago and Michael at Rancho Skatepark. They are always DOWN! Seriously, not only do they just to come out and shoot, but they're also just real supportive and are good friends. Put the skateboards aside and they are cool people to just hang out with. Their work ethic is 100% and it makes everything natural, I know that they truly love skateboarding and their own craft.

Which skate spots can you recommend in LA if we visit the city when COVID is over?

For now, I will say Caltrans In DTLA, there are curbs to slappy grind and walls to wallride. Staples Center because there are manual pads, ledges, and stairs all around the building. DTLA courthouse is the BEST place for flat ground and ledges both big and a decent height. So many more spots, hit me up when you do come out here!

What does 2021 hold in store for you?

2021 HA! What a time even the number of the year sounds awesome, I have no clue. I know I will travel. I hope we can get out of the country. That is what I really want to do, I want to travel again. I want to be skateboarding and creating world wide. We'll just have to wait and see. I also want to thank everyone who helped me out this year and kept me rolling! David Fink, Seu Trinh, Kevin Imamura, Matt Rodriguez, Vernon Laird, Brendan Klein, Mike Gigliotti, Albert Hernandez, Cain Gallegoz, Michael Bell & Justin Crawford! And everyone who gave time to read this. Thank you!
Find out more about Mario on his Instagram, and if you're interested in viewing or buying his paintings visit marstudiola.com.
Photography: Justin Crawford
Watch more of Mario on the Dose YouTube channel: