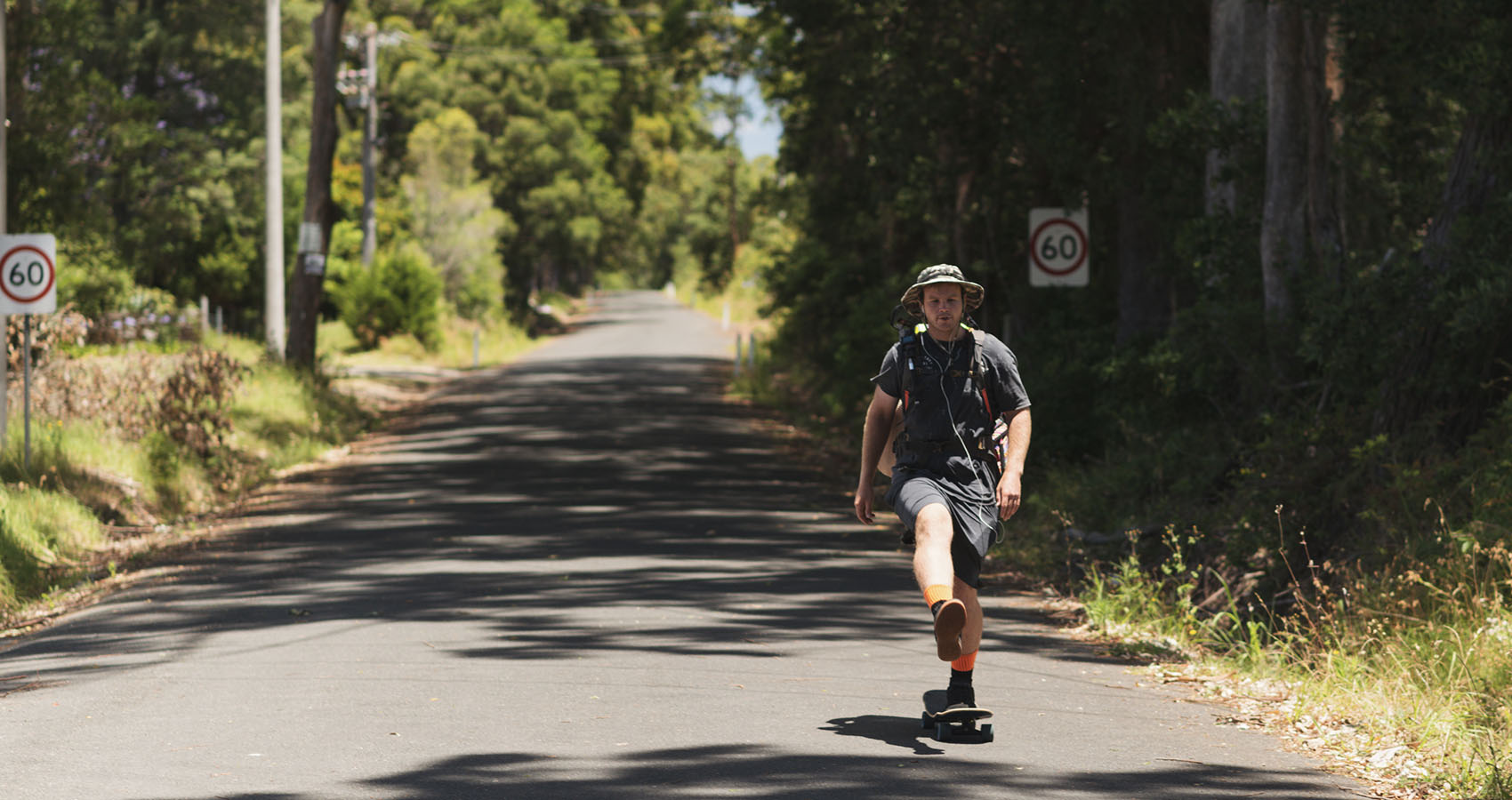 Tom Drury Travelled 4000 Kilometers on a Skateboard to Build Laos a Skatepark
We interview Drury to talk about his insane trip
Tom Drury is 28 years old and originally from rural Australia. When the pandemic kicked in, Tom developed a heavy case of cabin fever and was hell-bent on an adventure. There and then he made up his mind to roll from Melbourne to Cairns along the eastern coast of Australia covering a distance of over 4000 km on a skateboard. Yes, that's right, 4000 km on a freaking skateboard! Tom took on this insane trip not just for fun however, but instead to fundraise for the first skatepark in Laos. Having previously lived and worked in Laos for a while, Tom had observed that the skate scene was growing rapidly but very much lacking in infrastructure. Therefore, Mr. Drury chose to not alone make his trip a personal project but to benefit the skate scene in the South East Asian country.
We sat down with Tom to talk about his skateboarding adventure and the skatepark project in Laos.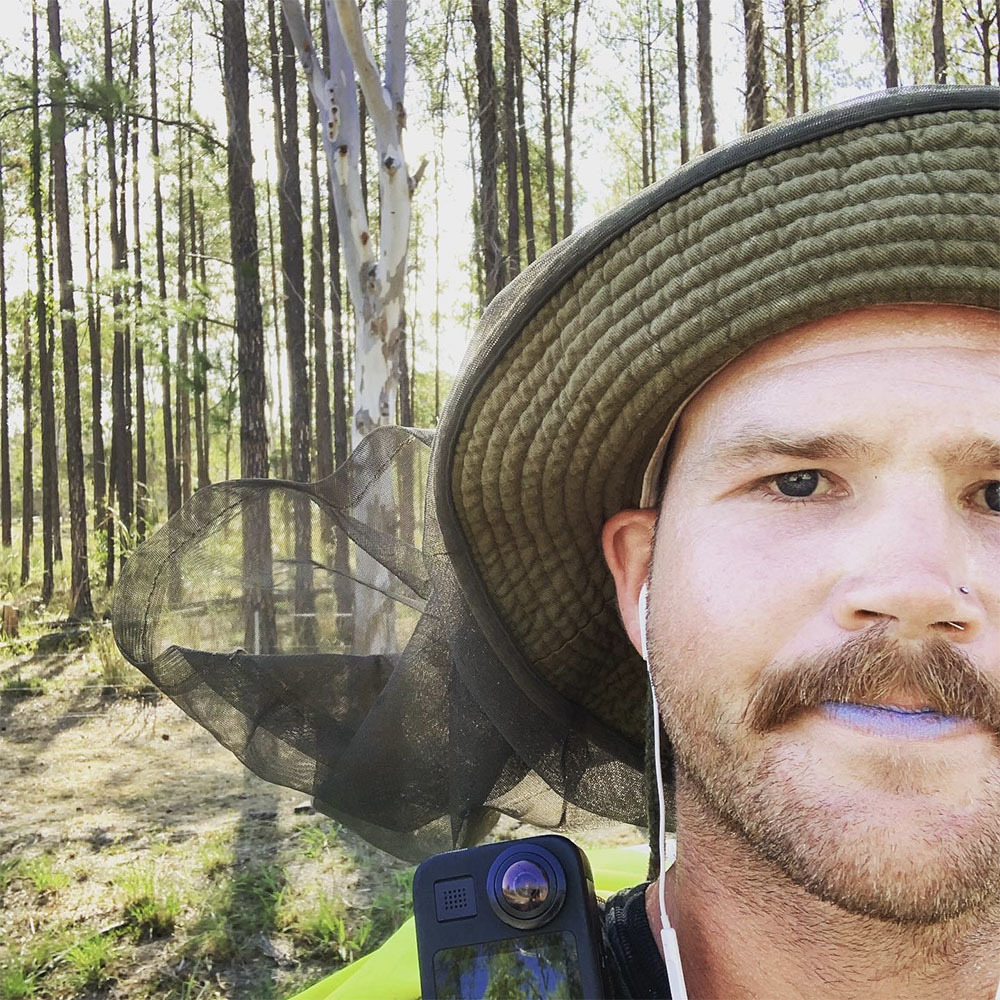 You started this crazy project of yours to bring skateboarding to Laos. How was the idea born and when did you decide to go on such an insane trip and travel 4000 kilometers on a skateboard?
I've always been a skateboarder, whether it was skateboarding, riding rollerblades or BMX but skateboarding for me was just something that was always important to me. I used to live over in Laos. The first time I went there was about 10 years ago and I noticed that skateboarding was not really popular back then. Every year that I came back to Laos I saw more and more people with skateboards and now 10 years later, it's just this big growing popular sport with a big community. The problem is that they got nowhere to skateboard. In fact, it's the only country in South East Asia that doesn't have a skatepark at all.
I was looking for an adventure as well but then I was thinking, maybe I know some people with land and thought about how this could happen in Vientiane. I saw Make Life Skate Life on Facebook and I just sent them an email and told them about myself and the situation in Laos. I asked them if they would be interested in the project, what base amount of money would be needed and what other things they need to get things started. The founder of Make Life Skate Life messaged me straight back, we talked for a while, and we just sort of set it all up. He told me that we'd need around $25.000 USD to start and then we'd also need to find some land.
I was just asking people around Vientiane for a piece of land because foreigners cannot own land legally, so we had to find a local that had the land and let us build on the land. When we found that person, I just had to raise the money and that's when I started my trip.
You said you wanted to go on an adventure, you also quit your job in order to make that happen right?
Haha, yeah. I'm from the desert in Australia and it's very isolated where I'm from, so what I did during the lockdown last year was to see how far I could skate out of town because I got bored skating around town. The first trip I did was about 25 kilometers, I thought that was insane, and then I've done a 50 kilometers trip and that took me like five hours. I thought that was so crazy. In my job at the time, I was doing this really hard physical work, having 12-hour days and I thought if I can get this far in five hours, I could do 110 kilometers in 12 hours and it would just be like a day of work for me. I was stuck working and thought I need to skate somewhere. That's when I was like, let's skate from Melbourne to Cairns.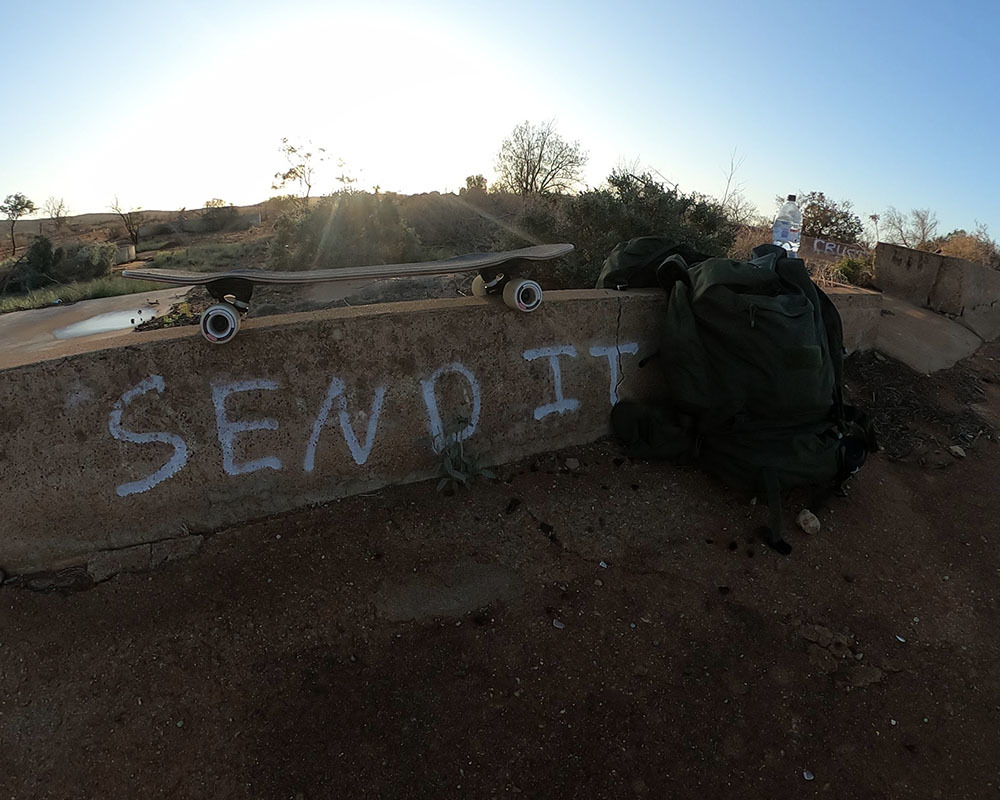 You said you were already surprised skating 50 kilometers in one trip. How did you feel when you arrived at your target place in Cairns? Were you surprised to actually make it, or have you been confident throughout the whole trip?
I was confident once I got to Sydney. I started the trip with no training at all. On my second day in, I was so exhausted and was just thinking: what the fuck am I doing here? I was walking on the side of the road and this professional scooter rider from Nitro Circus saw me and pulled up and asked me what I was doing. I didn't know who he was. He was asking me where I live, and I told him that I was trying to skate to Cairns. He was like: "What the fuck dude". He gave me a shoutout on Instagram and overnight I got 150 new followers and people sending me messages about my project and all that. I thought that was pretty cool and then I just kept going.
Once I got to Sydney which is about 1200 kilometers from Melbourne, I felt confident and I felt like I can do it. Though, when I finished my last day it didn't even feel like anything. It just felt like it was the last day at a job or something, you know. Initially, I thought I'd be overwhelmed but when I got there I was just thinking: yeah, let's party!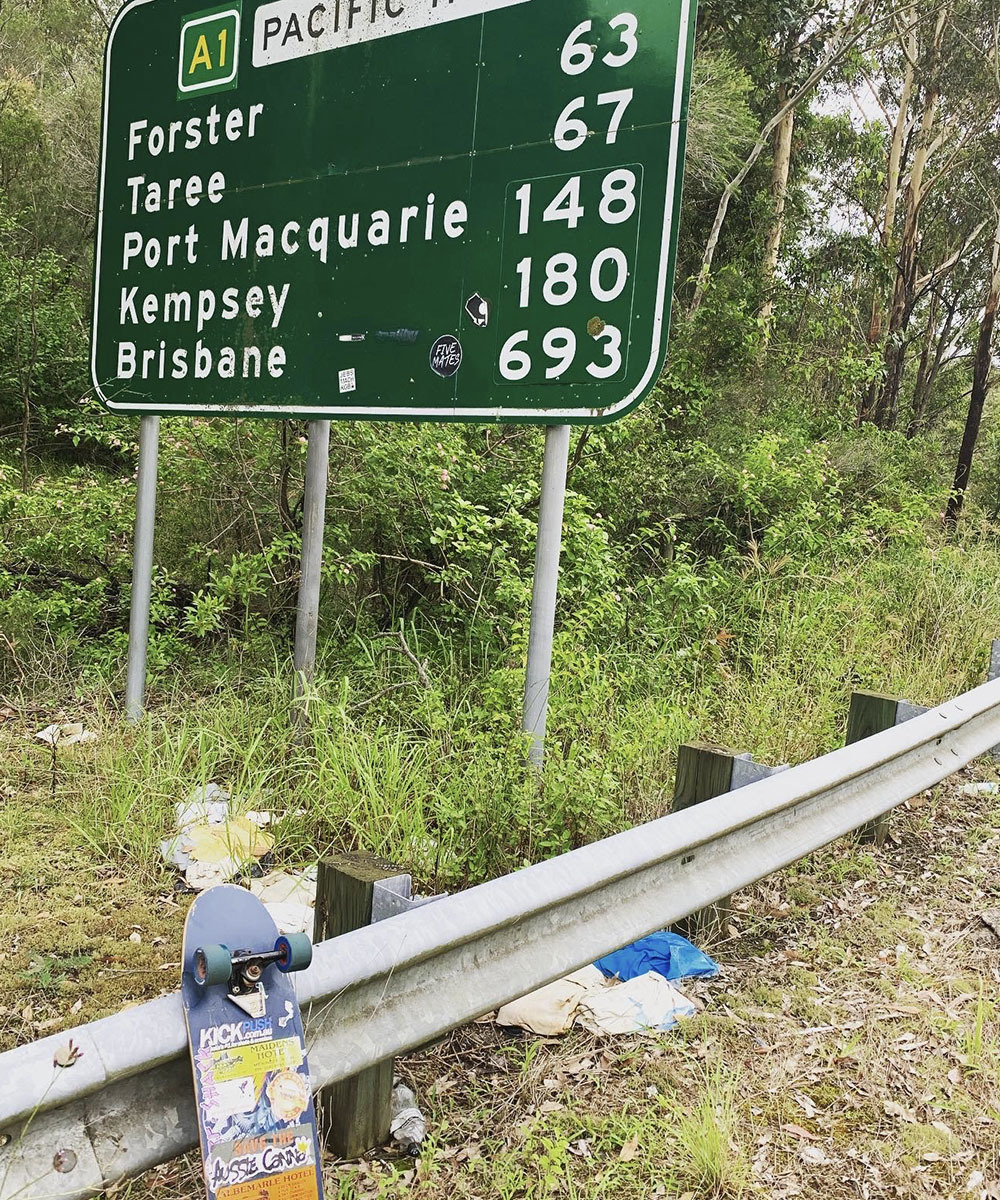 How have you been keeping up physically skating 70 to 80 kilometers a day?
My average was 68 kilometers per day. Some days I was skating 110 kilometers, some days were 50 kilometers, some days were 80, some were 40 but most days I skated about 70 kilometers.
I treated it as if it was my job, so I skated five days a week and then I had two days of rest.
I love skateboarding, so I had lots of fun but at the same time I was hating it because it was really hard and really hot, and I was dealing with so much stuff. When you are by yourself you can't really stop by the side of the road and cry, you have to keep going because you have to get to the next destination.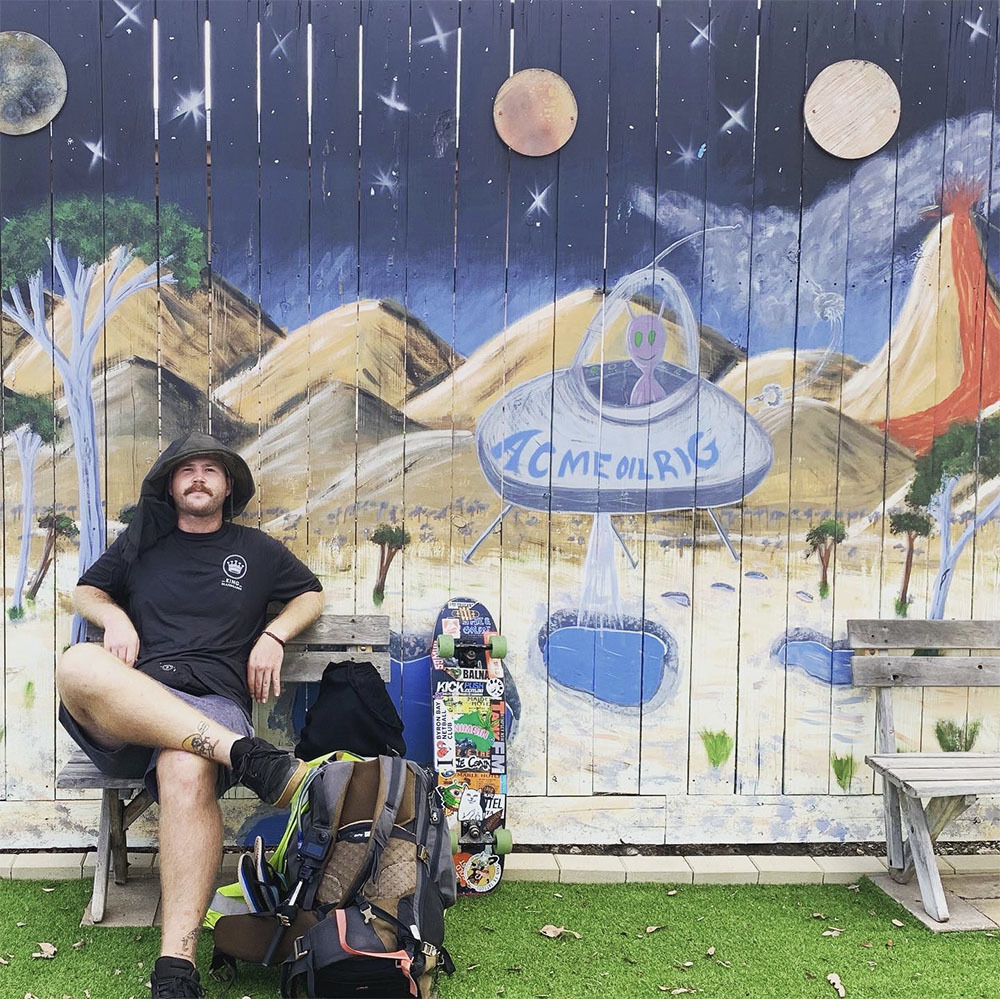 Was it more a lonely trip or did you meet lots of people during your time on the road?
In the beginning I really liked being by myself. I was listening to music all the time. I mostly had phone receptions so I could call my loved ones when I felt like it. I met people on the way but mostly on the weekends when I spend two days somewhere in a town. I made new friends and partied all weekend and then I was like, alright back to work and headed to the next town.
Did you go for distance only on your trip or did you also hit up one or the other skatepark that was on the way?
I was going to every skatepark I saw. Though, I had to be careful in skateparks because I knew if I would break my leg or my arm, it would be the end of the trip. I remember skating 80 kilometers one day and still going to the skatepark after.
Respect man! Was there something particularly crazy that happened during the trip and your time on the road?
I didn't meet someone who was trying to kill me or anything like that. Everyone was helpful. I didn't meet anybody that I thought was scary or dangerous. Everybody that saw me was so interested in me. Even people that were initially into robbing me saw what I was doing and then they were like no we're not robbing you. I'm this guy on a skateboard and they kind of think that it's just funny.
A few times I nearly stepped on some deadly snakes when I was in the middle of nowhere. There were a lot of situations where I ran out of water and was dehydrated really bad.
One day I skated 110 kilometers and there was no shade at all on that route. It was 37 degrees Celsius that day too. Neither was there any service stations or hotels on the route, and I could only carry 10 liters of water which was less than I needed. My heart was racing, I was thinking that I was going to have a heart attack. I managed to do a stop and laid down under a tree for an hour or so to cool my body down because I was so overheated.
I almost got hit by cars and trucks quite a few times as well.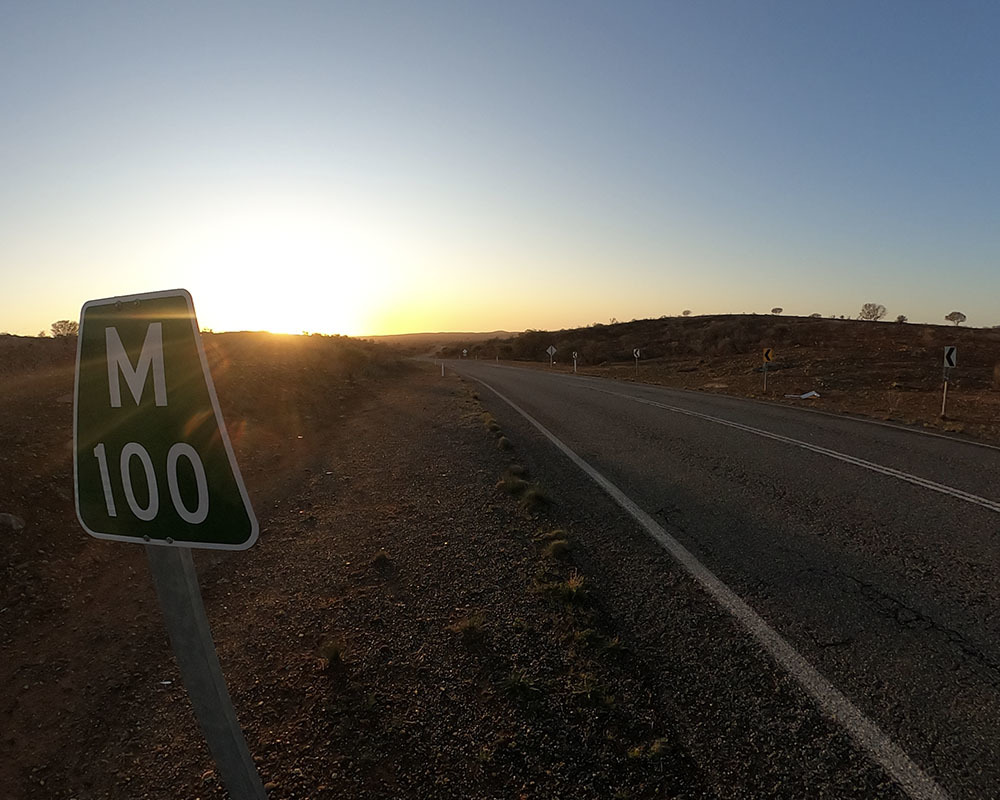 I saw yesterday that you raised nearly $36.000 USD already with the aim to reach $40.000 USD. Where can people donate money for this great cause?
Yeah, I'm keeping my fundraiser open because the more money we get, the better the skatepark is going to be. We actually might not get there with the whole COVID situation at the moment so I'm keeping it open until we can go there.
I got a Go Fund Me. You can find it if you just search for "Skateboarding for Laos" and it'll come up. Otherwise, you can also find the link on my Instagram @gordy.abroad or on my Facebook.
Do you already have a sponsor for building the skatepark?
Make Life Skate Life are the ones that will be designing the skatepark. They are professional skatepark builders and will talk with the skate community in Laos to work on the project together. They will also put in a little bit of extra money since they got sponsors. There's this construction company in Laos run by an Australian guy which will provide us with some raw materials that we'll need to build the skatepark.
There's also this big skate shop in Australia that said when we built the park, they will send over lots of gear like brand new boards and stuff for the local community in Laos.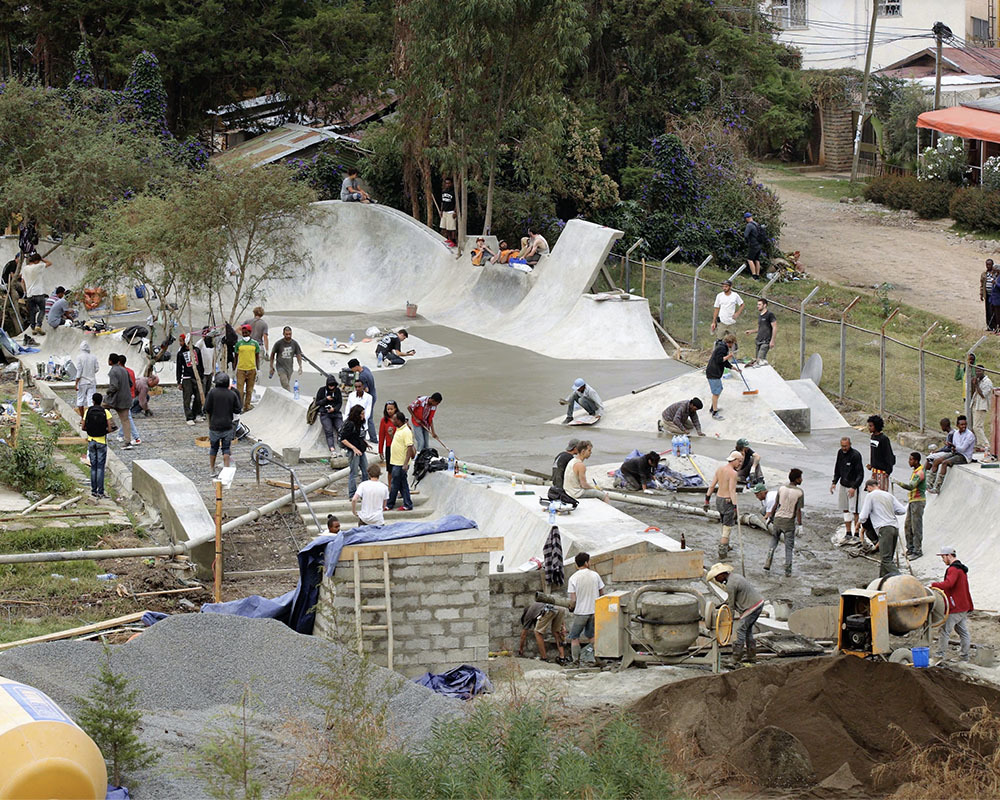 Is there already a date for construction planned?
Nah, because Laos has been closed since the start of COVID. They are in the middle of vaccinating the people in their country now and the Australian government is actually helping them with that. We've been talking with the embassy though and we estimate that at the end of this year or at the beginning of next year we can start with the constructions. Now that we have a decent budget and the infrastructure to build the skate park it won't be a long process once we start. It'll take around three to four weeks to do it.
Obviously, you love skateboarding. After arriving in Cairns though, did you take a break from skateboarding or did you continue skating after this trip?
Yeah, I've continued skating. I've done a 30 kilometers day trip through the desert the other day. I think in the next few weeks I will do another 60 kilometers day trip and for my birthday which is in October, I will skate from Adelaide to Melbourne which is about 1000 kilometers distance.
Sounds awesome! You have future long-distance skate trips already planned out.
Yeah, I think it will never stop for me. Even in the next few years I'd like to do a trip like this in New Zeeland or in Japan. I love traveling and now that I think about all these countries, I think fuck I also want to skate there.
Thank you very much for your time Tom, keep doing what you do, and all the best for your future trips!