One on One With Stinky Socks' CEO
Exploring the rise of the revolutionary socks brand
We got the chance to throw some questions at Risto, Co-Founder and CEO of one of Europe's most interesting independent skate apparel brand, Stinky Socks. Founded in Bulgaria, the brand is entering the skateboarding and snowboarding market with an original line of products and gaining growing notoriety across the scene.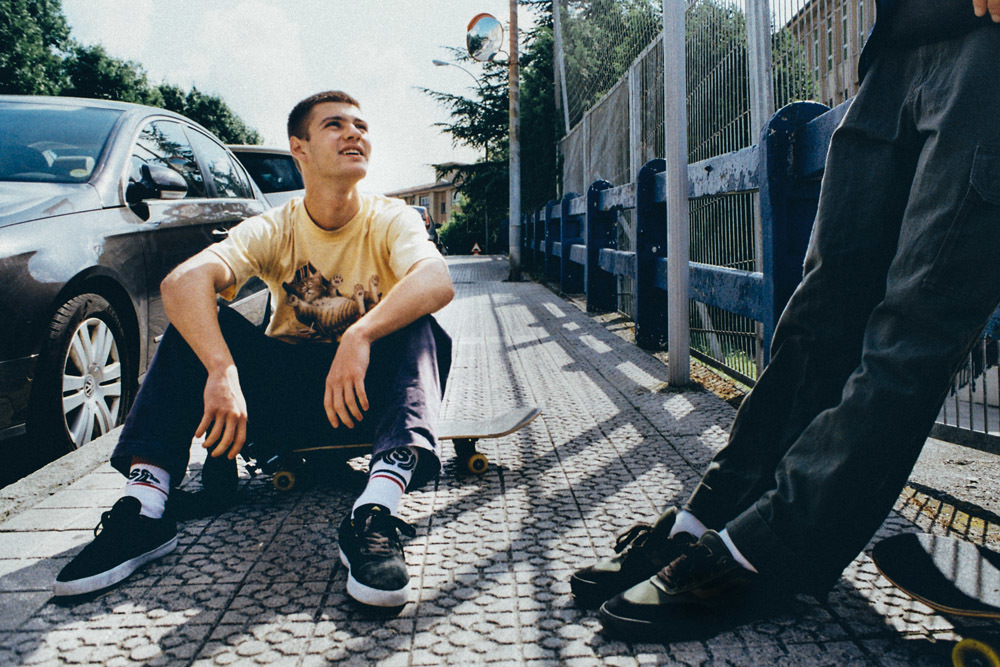 Lazar Georgiev shot by Ivaylo Donchev
Risto, we have been following your brand for several years now and it's fun to watch how your development in the sock industry is coming along. For everybody that doesn't know Stinky Socks yet, tell us when and why the brand was founded.
Long story short, we first had a distribution company, and still have it actually. We had to start that because around 2007/08 we skateboarded and snowboarded hard, and it wasn't easy to find the gear that we wanted here in Bulgaria. You know we come from Eastern Europe where the scene is super small, and only the big and mainstream brands establish themselves into the market here. Well we were not down with them so we wanted the alternatives, the underdog brands. So we thought anyway we have influence, why not bring the brands that we relate to on the local market. That's how we started distributing a bunch of California based brands to Bulgaria, and that was working pretty well for us. We were filming every move we made and the lifestyle that we promoted got attention outside of Bulgaria. Once that started working we thought let's start something that represents us in full. There was the idea for our own brand. So November 2011 the first three designs of Stinky Socks arrived at my door. We turned my living room into a warehouse and it all began from there.
Have you been a skater/snowboarder before you got into that niche?
Yeah, we've been snowboarding since the late '90s. I started pretty late at the age of 18 since snowboarding was way too expensive. My younger brother skated before that, but I couldn't ride with him, because we weren't able to afford a second board. So I just backed up, since he was, and still is more talented than I am. Then at some point, my mom spent her whole month's paycheck on a snowboard that we had to share, and that's how things kicked off.
Why socks and not tees?
What we've always done and what drove us throughout the years is to be different, and to be an alternative to the mainstream. Around 2011, there was a boom of the homies' brands and everyone was making tees, beanies and stuff like that. We thought that we should be different and at the same time keep the production costs low seeing that we didn't have any funds.
Of course we need to ask you about your hard to beat brand name. What's the story behind it?
Well, it happened naturally, we were inspired by a local Bulgarian brand whose name meant something both in Bulgarian and in Spanish. So we were looking for a name that could be related to the product and have a meaning in both Bulgarian and English. So while stinky for you is something that smells bad, in Bulgarian it means spare change.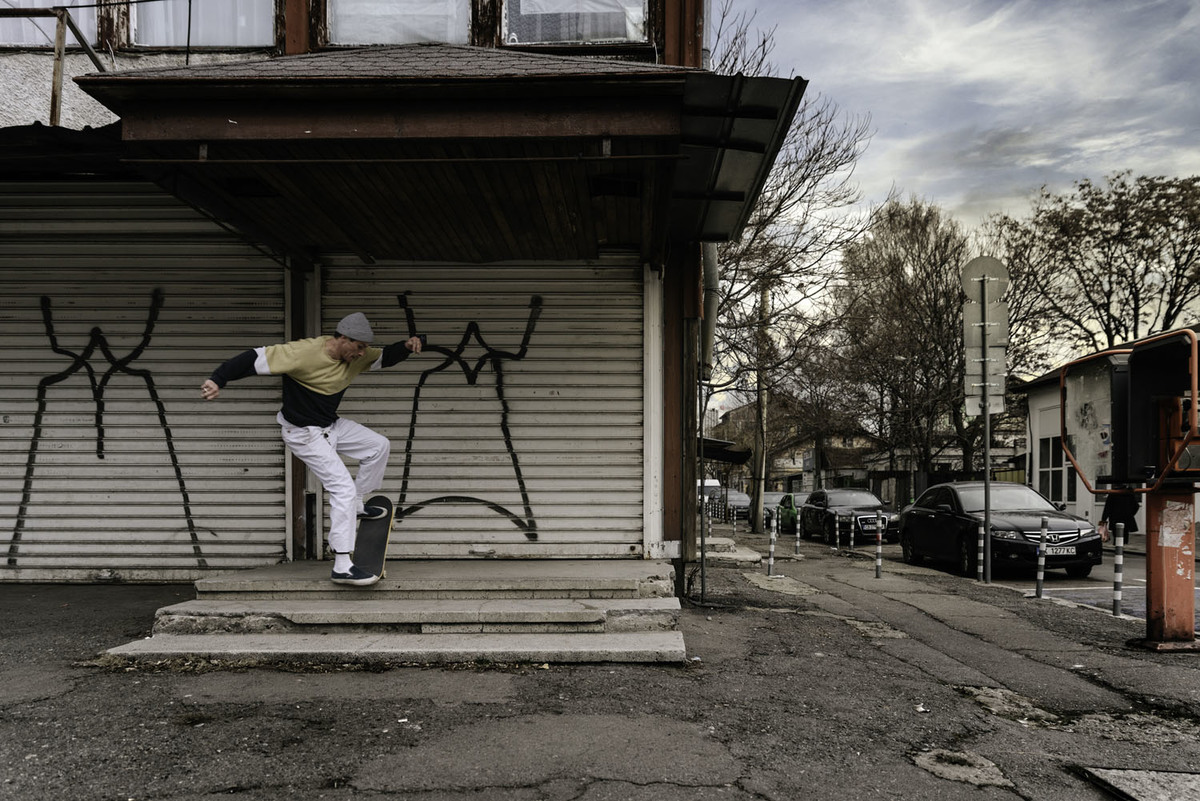 Yavor Ski shot by Ivaylo Donchev
What makes Stinky Socks so good for riders?
We have the most comfortable socks in the world. We are working with our production team to deliver the best quality possible and to be as durable as a sock could be. On top of that our team is full of creative people that stand behind their own style. And we back that up, we embrace differences. Kids need to know that being themselves is what makes them unique and interesting to the world, fuck following trends and what's cool, that's disposable.
After wearing Stinky Socks on a regular base, we can say look and function are totally balanced out. Who's coming up with your designs?
We have a few lines and collabs that are designed by different people, the rest is pretty much designed by Dimo, my brother, partner and main filmmaker at Stinky.
Everybody is talking about sustainability. Is that a topic you're concerned about as a brand?
Absolutely! That's why we don't produce a disposable product that is wasted within a month. Then we are just trying to educate everyone that we need to save the resources that the world has.
Stinky Socks is all about 'family'. What does it mean to you?
It means the world! I've grown up on the streets hanging out with my friends and they were my family. Everyone that is on the Stinky team is family to me and I was a huge fan of each one of them way before I even knew them.
"The Olympics is a money-making machine for a bunch of rich people and a bunch of corporations that don't really care about skateboarding..."

Skateboarding is part of the Olympics for the first time this year. What influence do you think, will this have on the skateboarding scene?
I honestly want to say that I don't care! The Olympics is a money-making machine for a bunch of rich people and a bunch of corporations that don't really care about skateboarding, I don't think they even care about any other sport in it either. Snowboarding slope-style got introduced to the winter Olympics in 2014 which is the closest to street skateboarding, yet I don't think this addition changed anything in the snowboarding industry. It may have a positive effect as well, but I think that this will only promote skateboarding for the benefit of the big corporate brands, that right now are killing the small local skate shops.
A lot of skate mags are still print-focused, what are your thoughts on printed media in skateboarding?
I believe in print and I think that it will never die, it just has to adjust its format. I collect limited edition books and mags, and I believe that this is the future of the mags. Instagram stole the exclusivity of the photos, but can't replace a good story or interview in print. I'm actually running the distribution for one of the largest snowboarding mags - Method Mag. That's been a good ride and I definitely intend to support print, in all of its formats.
What brought you to produce content such as blog articles and video parts?
Growing up, one of the things that I really wanted to own is a camcorder, that was kinda a dream for me to document what's around me. Once I had a chance to own one, we just got hooked on creating audio and video material. A few days ago I realized that I had exactly 900 blog posts up on the Stinky Socks website. I think this is what builds the brand and its image, it's a visual way to understand the message of the brand.
What would be your biggest advice for the readers who'd want to start a brand/company?
Before you start it just think about how devoted to that idea you are. If you are not ready to dedicate your life 100% to it just don't do it. This will take out the pleasure of doing some of your favorite stuff, this will take most of your time, if you are not putting at least 7 hours a day into it it won't work out. If you are ready to do it, go for it, dive in headfirst and never stop!
It is amazing to see how big of a family you've built through your partnerships. Do you have any upcoming collaborations?
Yep! I'm stoked on a few. We are about to launch the Keith Hardy "Shredmaster Keith" artwork sock plus a collab with the Skate Witches zine.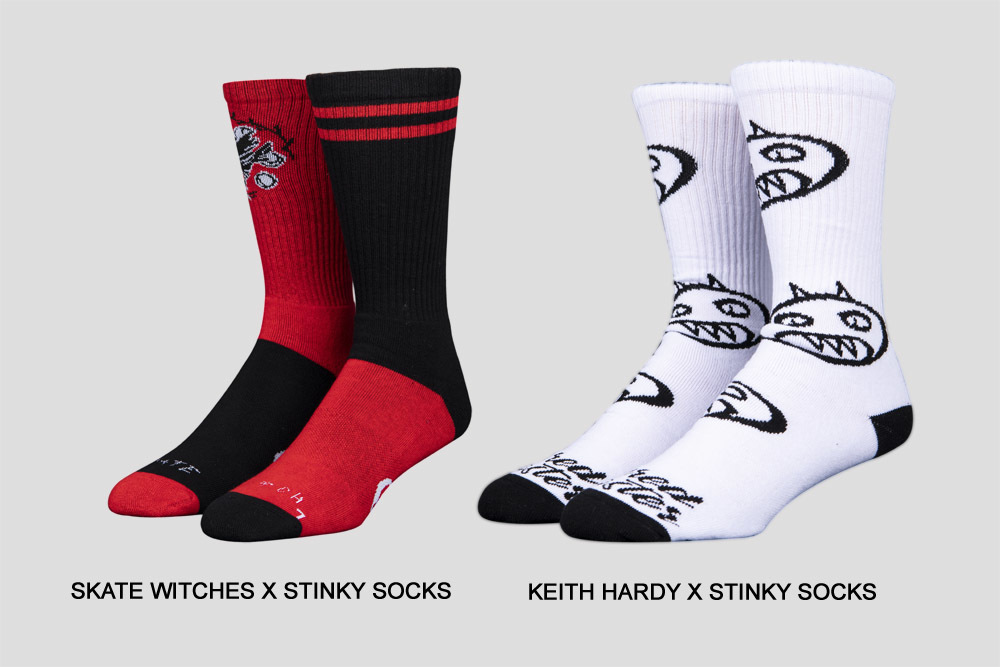 Who would you like to see most wearing your socks?
Honestly I get the most stoked when I see random kids skateboarding the streets with Stinky.
Thanks for the interview Risto!