Inside the Mind of: Lucas Beaufort
French artist, Lucas Beaufort talks about holding on to freedom, positivity and physical media in a world where all those things are under threat.
With our right to protest under threat in the UK, compounded by the pandemic restrictions that we have all had to live with over the past year or so, the concept of freedom has become somewhat obscure. Amidst the oppressive 'new normal', French painter, film maker and writer Lucas Beaufort maintains a positive attitude and values his liberty above all else, "The beauty of being self-employed is that you don't owe shit to anyone…I don't have to follow the line". Lucas is a very positive person and this reflects in his work. There is nothing contentious about it. He simply holds the value of freedom at the upmost and he doesn't like following rules or convention.
Lucas's most recognisable art features a character that he calls Gus Gus. The half bird, half human icon has been featured in collaborations with brands such as Vans, Zero skateboards and Billabong to name but a few. Lucas started drawing in 2009, "Back then I had a job and didn't call myself an artist…I didn't make a living out of my art, I just loved to draw. Over the years I was given many opportunities to exhibit and travel all over the world. Gus Gus came to me after a visit to Cairo in Egypt, I was inspired by the culture and in particular the hieroglyphics." There is more to Gus Gus than meets the eye; "Gus Gus holds a flower and this is his weapon, he doesn't have eyes because he doesn't judge anyone…He has a peaceful mind set…He loves people, he loves to hang out and he loves to be nice." Lucas revealed that Gus Gus is in fact, part of his own psyche;
"I think he has always lived inside me…he feels free in his head and I feel the same…I feel like I am a bird mixed with a human… Gus Gus is not just a character; he is part of me."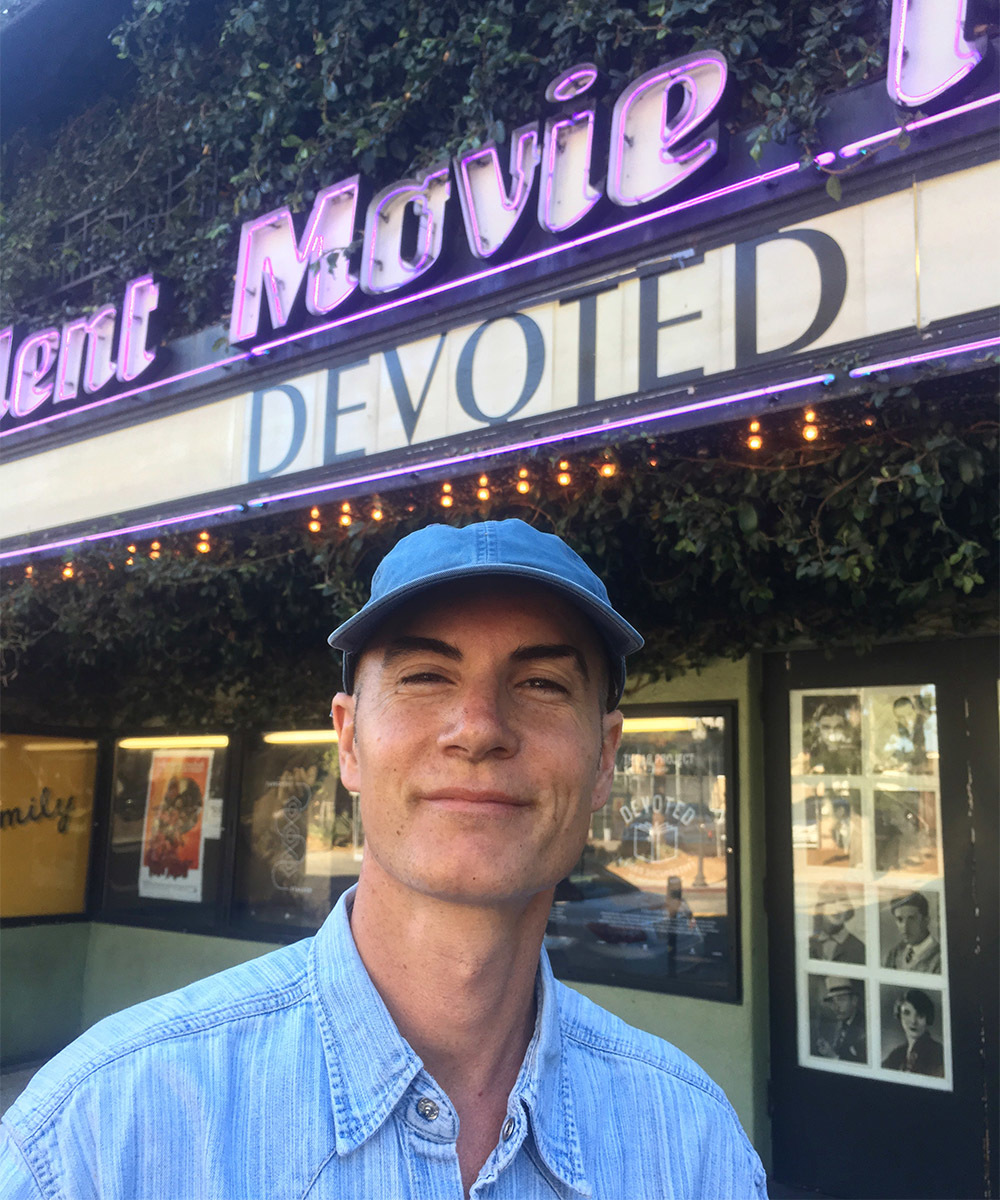 In 2017, Lucas released his first feature length documentary "Devoted". The film embraces skateboarding's penchant for print media and was inspired by Lucas's own passion for magazines. Gus Gus and Lucas's love for print thrust him into the limelight around 8 years ago, "I was in my studio and I was getting bored so I picked up a VICE magazine and drew on it. I took a photo of it and sent it to them via email. I didn't really think anything would happen but 1 hour later I received a message from them asking me if they could share it in return for a subscription to the magazine." Since then Lucas has painted on hundreds of magazines, "Most of them were part of a project, around 5 years ago."
Lucas cites this project as being instrumental in his success, "I feel that this project helped me get recognised as an artist because all of these magazines were talking about me". Lucas advises, "If you make a project on your own and nobody knows you that is going to be hard. By painting on the magazines, I collaborated with the skater, the photographer, the brand that support the skater as well as the magazine publishers."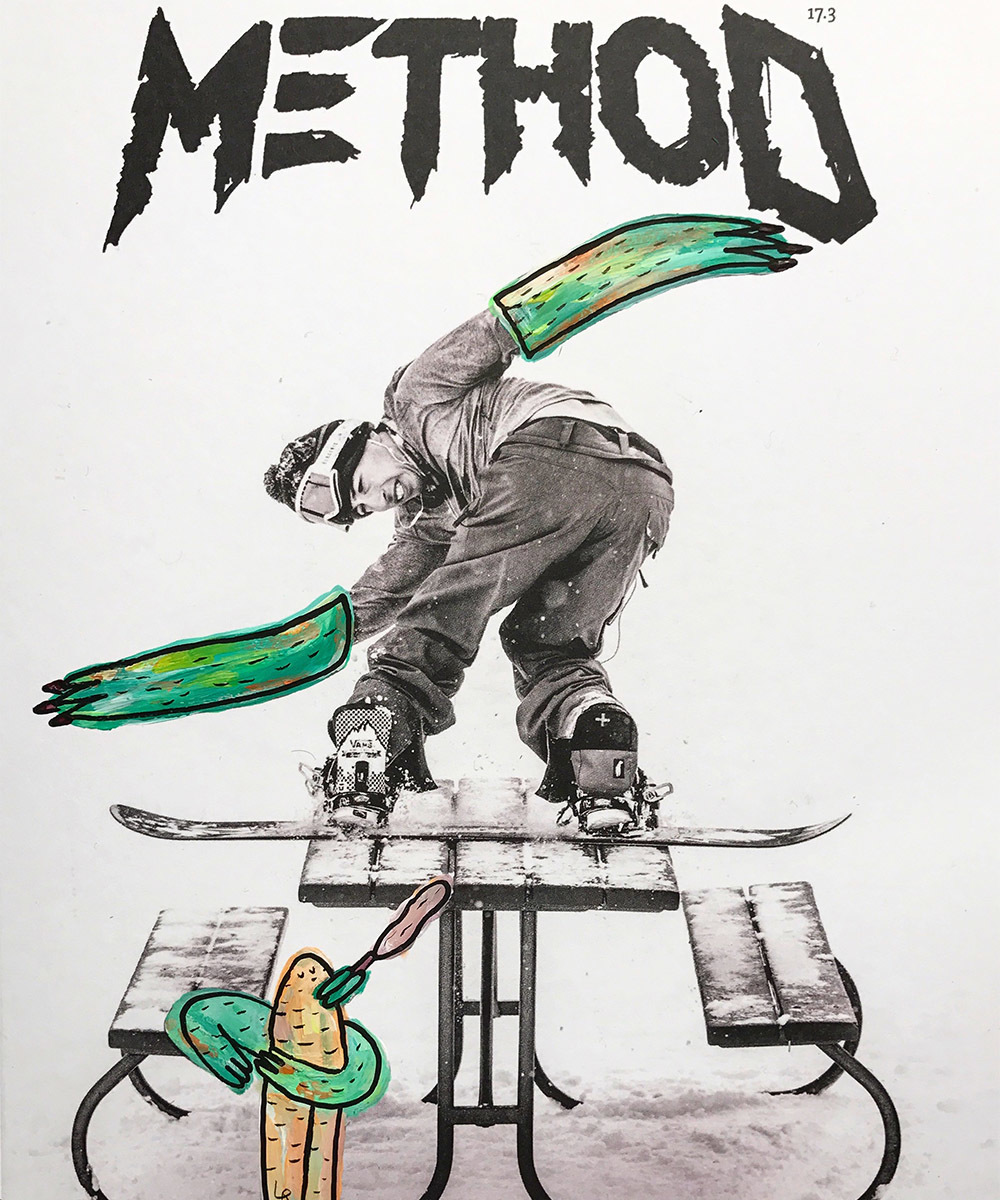 These days Lucas is working on a digital show for his community, graphic designs for brands and a book focusing on the history of 100 iconic skate shops, due to be released in 2022. The book features skate shops across 27 countries including shops in Brazil, Australia, Europe and Asia. Like his documentary, Devoted, the book embraces the skateboarding traditions that are under threat from the digital revolution. Lucas has a passion for the palpable and his work reminds us of the values at skateboarding's core. Parallel with skateboard magazines (which, to Lucas have equal importance in skateboarding history), he says, "Skateboarding exists because skate shops exist." With the latest rise in skateboarding's popularity, it is important that new skateboarders are not tempted by the convenience of online shopping; "Skateboarding is about connecting with people and being outside, therefore it makes sense that you would physically go and buy a skateboard from a shop."
Lucas's new book aims to encourage us to use our local skate shops and embrace the importance they have in our history. For Lucas skateboarding and art go hand in hand, "The first time I went into a skate shop, I was 14 and I didn't know about any skateboarding brands so what drew me towards the board was the graphic. I think that skateboarding culture is amazing because of art, skateboarding itself, without art is not skateboarding… of course art exists outside of skateboarding but my inspiration is coming from there, to me, they are the same."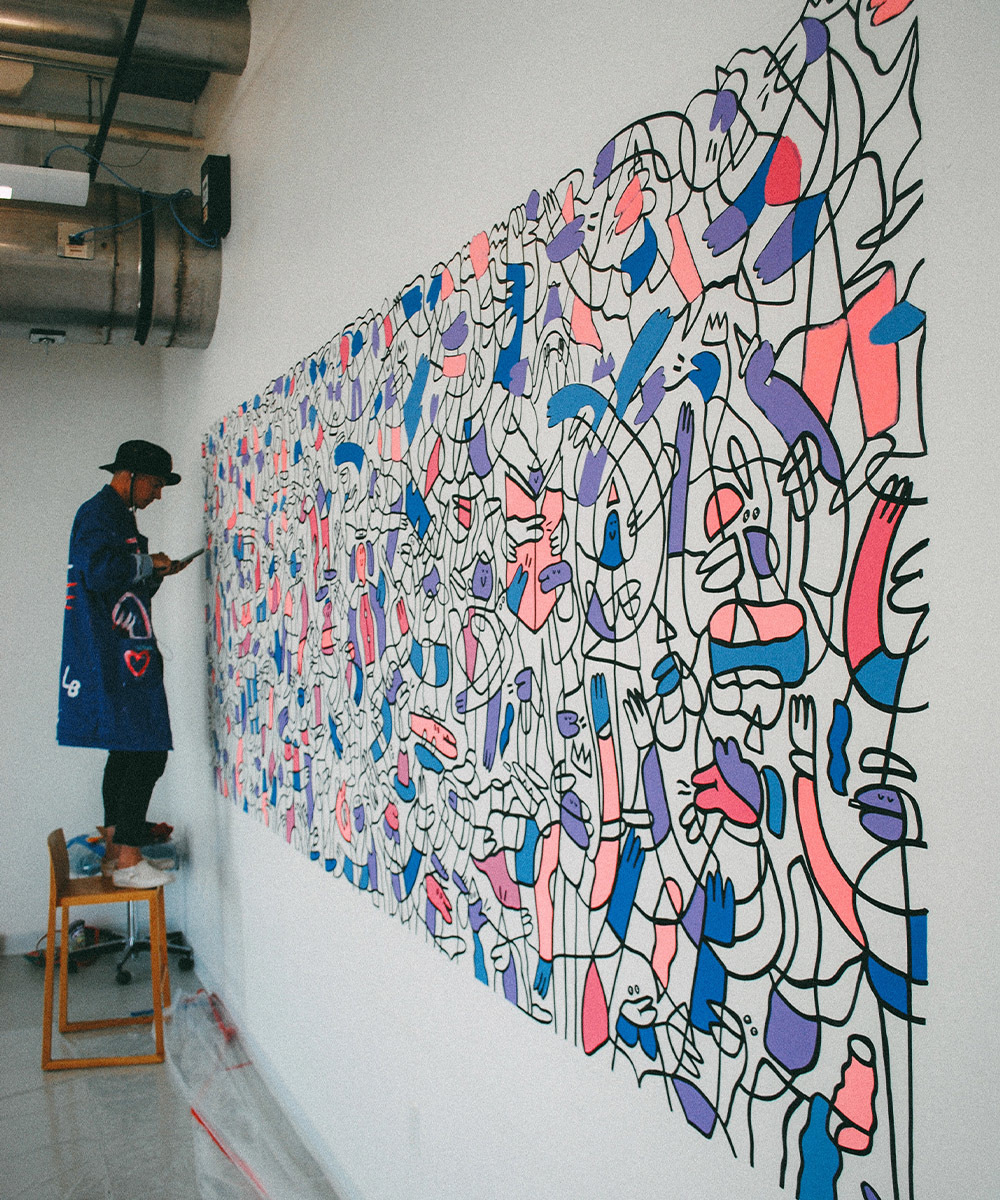 As the name of his documentary suggests Lucas is 100% devoted to his work. He puts his heart into everything he does. Lucas says his passion for painting comes from his passion for people and travelling is an essential part of his creative pursuits, "My life was travelling for 6 months a year around the world. I do that because I want to experience life and have adventures, I want to meet people, I want to feel and touch, smell new things, eat differently." Like all of us the current climate has restricted Lucas's work. Despite this he remains optimistic;
"I am in a positive situation at the moment, I have a beautiful wife, a beautiful house, I have a lot of work, my creativity is insane, I have so many ideas right now even if I can't travel…My biggest trouble is not being with people, I want to go back to the time where I was hugging people without wearing a mask and having to follow rules"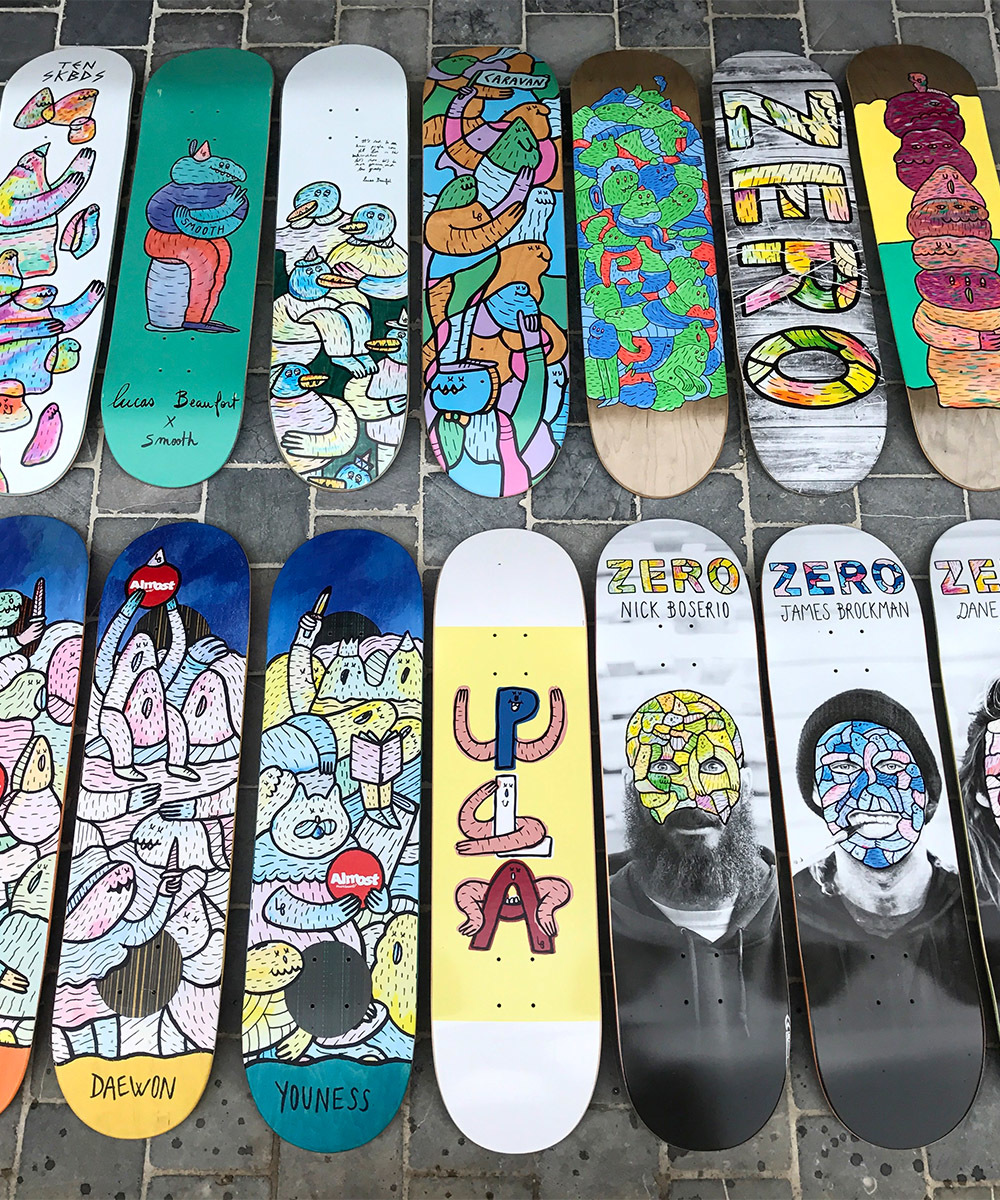 To add insult to injury (or the other way around), Lucas broke his ankle just before Christmas. As skateboarders we are highly reliant on our ability to do things for ourselves. The DIY attitude is another value at skateboarding's core. Anyone who has experienced debilitating injury can relate to Lucas's situation but as skateboarders we know all too well that an injury that takes us away from our boards, our friends, our creative pursuits and the outdoors can be devastating. Lucas reflects, "I felt useless and had a really bad time…Even though I was surrounded by love, my head was a mess and I was always fighting with the idea that I could have had avoided it."
Lucas's inherent skateboarder's resilience helped him through this, "Painting helped me a lot to get over it," but this was by no means clear cut, "By the second month, I was able to draw but I was still very, very down, I tried to keep positive by painting. Injuries are very hard to deal with". Fortunately, Lucas's natural auspiciousness is helping him work through his recovery, "it is really important to keep the positivity inside you and always encourage yourself to do things." Although Lucas continues to feel upbeat about his creative projects, he says he isn't planning on getting back on his board any time soon, "I am almost 40 and I don't want to say that it is the end of skateboarding for me, but where I live in Normandy, I am surrounded by countryside and there are not many places to skate." As an older skateboarder the notion of getting back on your skateboard can be daunting to say the least. You have a sense of your own mortality and experiencing the restrictions on your day to day life, finances and freedoms in general can make it very hard to take the risks that you would pre-injury.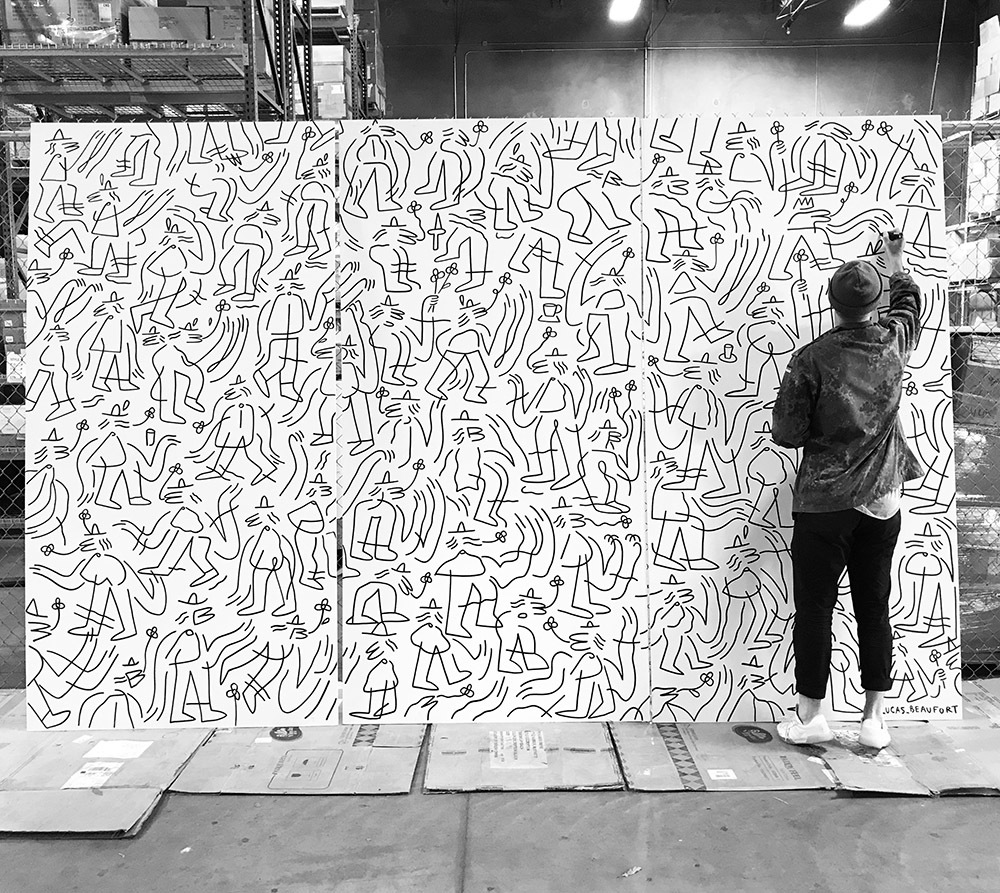 Whether Lucas Beaufort gets back on his board or not, he has clearly stamped his mark on skateboarding history. Lucas is a true skateboarder. His values are at the core of the culture and he strives to ensure that this is documented through film, art and print. Through his work, Lucas shares a message that we all need to take heed of: our freedom to experience things in reality, to hold, smell, touch and physically do are things that we must hold on to.