Jiro Platt Chats His Faves, Inspos and How It Feels To Be One Of Skateboarding's Youngest Prodigies
Get to know one of NY's sickest skaters
If you haven't yet heard the name Jiro Platt, get to know. The 13-year-old Manhattan native has been cementing himself in the game for a few years now, and he's not slowing down any time soon.
When you think about such a young skater, a couple of things come to mind: unrefined-ness, wobbliness, and timidity. But not this dude. Just by peeping his Instagram @jirodreamsofskating, you can see this kid ain't no ordinary skater. He's COLD.
DOSE SKATEBOARDING sat down with the crazy talented inspiration and had a little chat about all things skateboarding and got to know more about the skater. Come take a peep into the mind of one of the youngest and most skilled skateboarders about.
Hey, Jiro! First things first, what inspired you to start skateboarding?
What's up! I started skating because I was six, there was a show on Nickelodeon called "Zeke and Luther!" It was about two kids who skated, and I thought "that looks so dope!" And I had a board I had gotten for a birthday, so I tried it out! I don't know why but I have this vivid memory of the show, they called a trick a "Duck Flip." I don't know why I remember it so well.
There's a bunch of SICK tricks on your Insta. What's your all-time favorite trick?
Thank you! My favorite trick of all time is definitely an ollie! I can apply it to anything! Sometimes, less is more.
Where's the ultimate best place to skate in New York?
My favorite park is probably, LES. It's my local and friends are always there. My favorite spot is probably Grey Marble, aka Big Screen Plaza! It's on 29th street in Manhattan. It's so fun because it's perfect and has many obstacles!
Gnarliest injury you ever got from skating?
I hate this question. Because it has bad memories. If someone asks me I'm usually like "nope…" but my worst injury was probably just sprained ankles. I've been out for months on sprained ankles.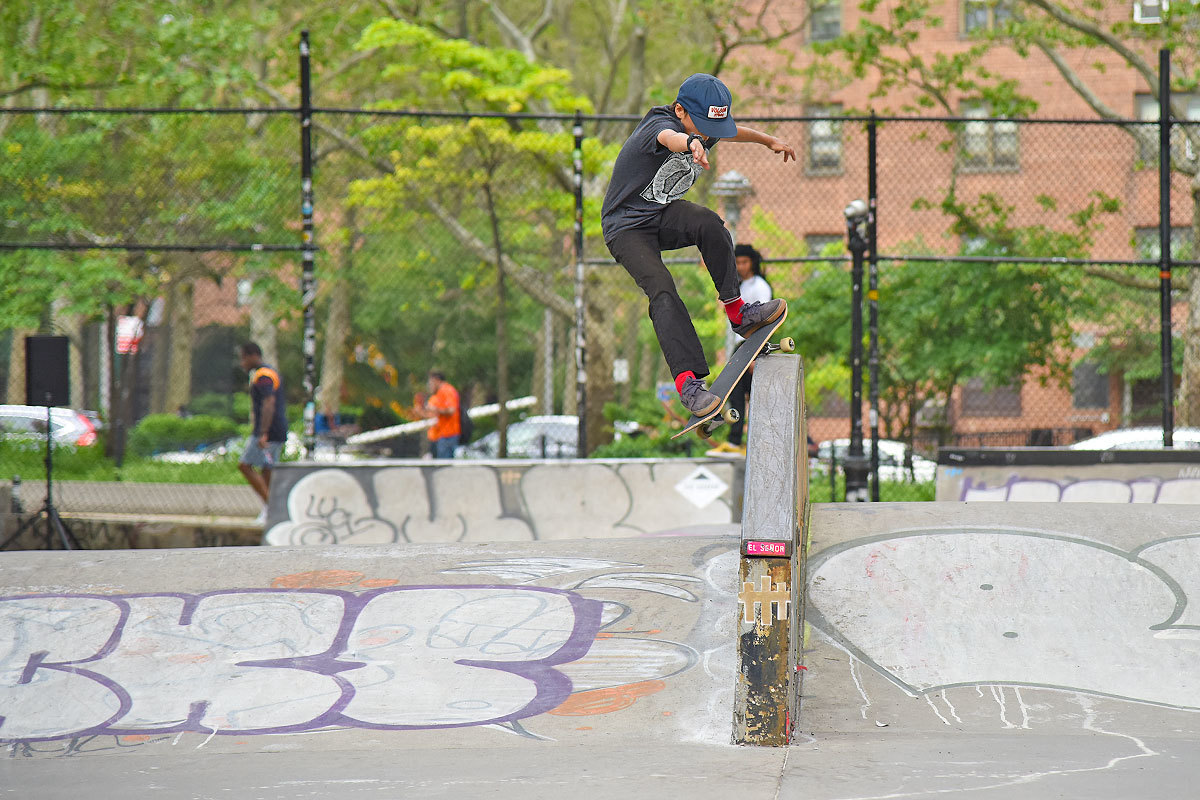 What was the first contest you took part in and how old were you?
There was a Volcom Wild In The Parks Contest when I was like eight at LES. I actually ended up first in my division! I was so stoked! I was cocky after it as well.
What do you think is the biggest difference between the NY and Cali skate scene?
NYC has bad weather. And in Cali you have to drive everywhere. It's much different from each other.
Do you have any other passions besides skating? Any other sports you live for?
I don't have other passions necessarily. But I do play guitar, and I ride bikes with friends bad weather days or at night!
Congrats on being ranked in the Tampa Am Semi-Finals! What was your initial reaction to this wavy achievement?
At the time I was just focusing, but at the end I thought "Holy sh*t, I did actually really well!" It was awesome, I felt accomplished.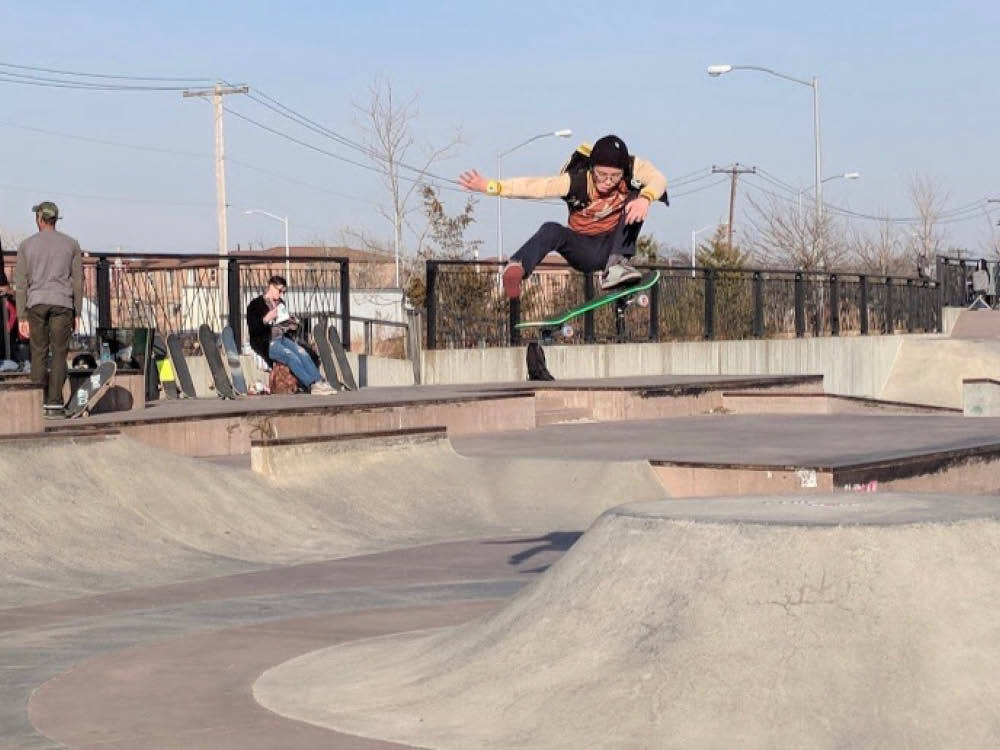 We gotta ask… how does it feel being so young and absolutely killing the game?
Well I try not to let being good at skating get to my head, but it feels good to not be like "I wish I was good…" because doing things with ease is fun, but working to get a trick is satisfying as well!
An all-time fave spot to eat in New York?
Honestly… a deli with a good chopped cheese always hits the spot.
From this exact moment, when was the last time you skated?
An hour ago I was skating the street!
What's the first thing you look for when buying a new board?
I, fortunately, don't have to buy boards, due to people who support me!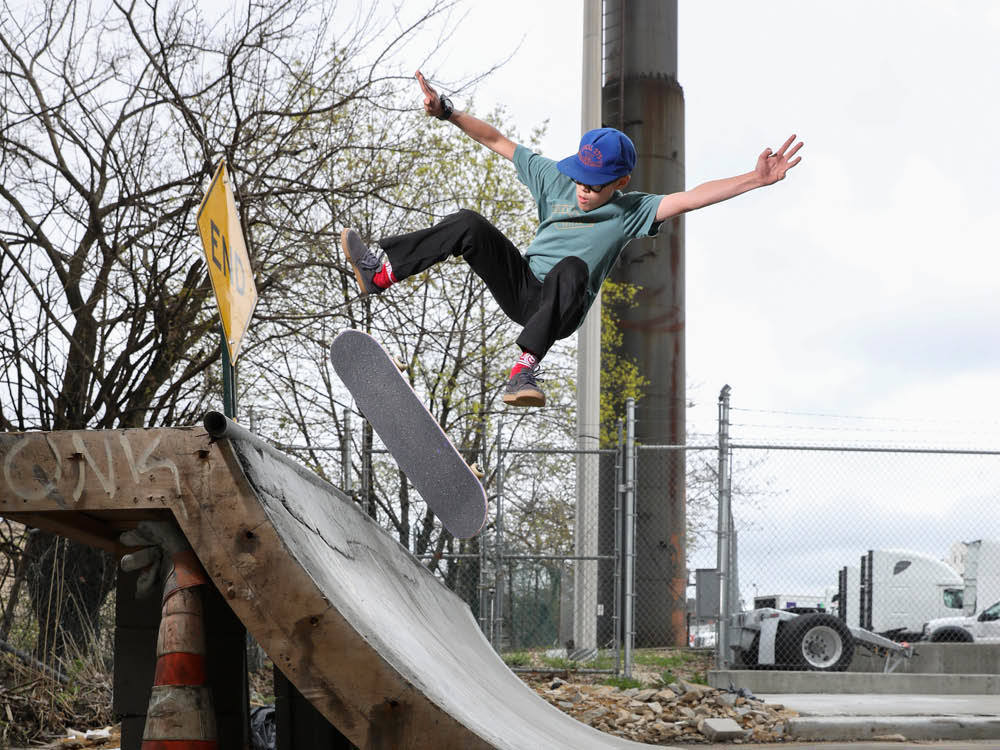 Dance break. Who are you listening to right now?
I'm currently not listening to music, but when I do, I can jam to anything! Rock, Rap, Classic Rock, you name it! Just no Country or Pop.
What is the future for skateboarding?
We'll see! Mostly young rippers though!
Last but not least, who would you name as your biggest skate inspiration?
This is a good one! Probably every skater that I think does a cool trick. I see a cool trick that inspires me, and I learn it, it's new in my arsenal! I get inspired by many people.
READ NEXT: WANJA BACH QUICK FIRE Q&A