Top 10 Skateparks in Berlin (PART 2)
Picking up from where we left off in part 1
So, it's time to jump back into it and get more familiar with some of the best skateparks that Berlin has to offer. If you didn't see 'Part 1' of this article yet, you can check it out here. You will be provided with 5 other sick and local parks, plus another bonus park. Picking up from where we left off in part 1, we continue with number 6 on the list:

6. MAYBACHUFER (MBU) SKATEPARK. (SKATEPARK ANTHONY HUBER SKATEPARK)


Patrick Rogalski - image courtesy of Iriedaily
MBU is a relatively small skatepark with a lot of fun obstacles to get creative with. I find the best attitude to take with you here is to expect not to skate at all and mainly just chill with the homies, that way any trick you do manage to do is a bonus! If you go with the attitude of 'I'm gonna shred the park all day you'll just get overwhelmed with the number of kids running around and getting in your way, parents included!
It's a very difficult place to get a session down if you're not the patient type.


Patrick Rogalski - image courtesy of Iriedaily
This skatepark was officially renamed when the Berlin skaters, who wholesomely came together and in loving memory of Anthony Huber, renamed the skatepark in his honor. For those unaware, unfortunately, Anthony Michael Huber of Silver Lake, Kenosha, Wisconsin, was one of the men shot by Kyle H. Rittenhouse in the same Black Lives Matter demonstration in Kenosha on the evening of August 25, 2020.
7. SKATEPARK HEIDELBERGER PLATZ BERLIN.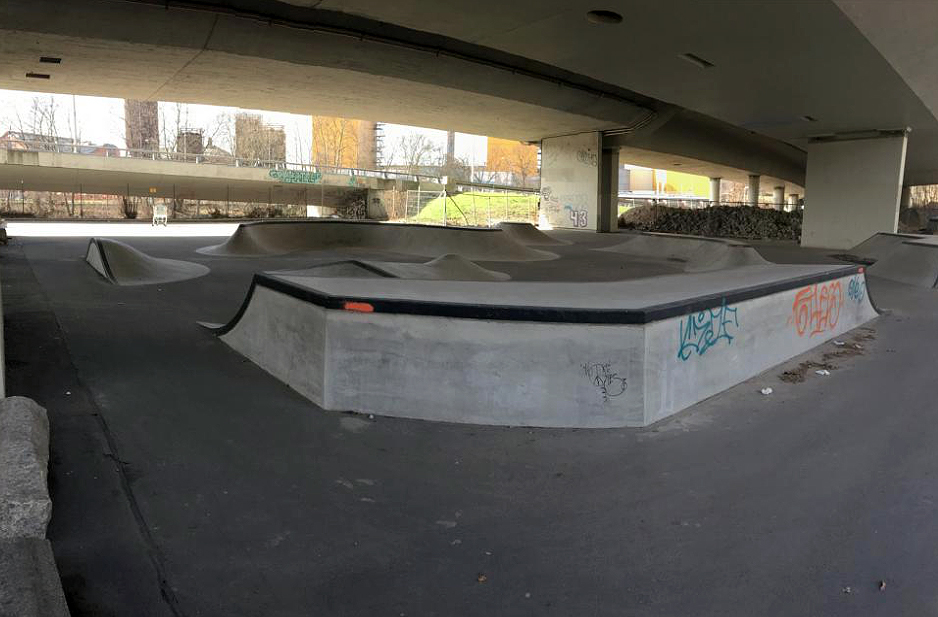 Heidelberger Platz is a nice place to chill and get some cover or shade depending on the weather, as it is located directly under the motorway which provides a roof for the park, But unfortunately, when there's anything more than a drizzle, countless amounts of miniature streams and damp patches begin to form on the skatepark floor due to the roof leaking or pathways created from the larger puddles nearby.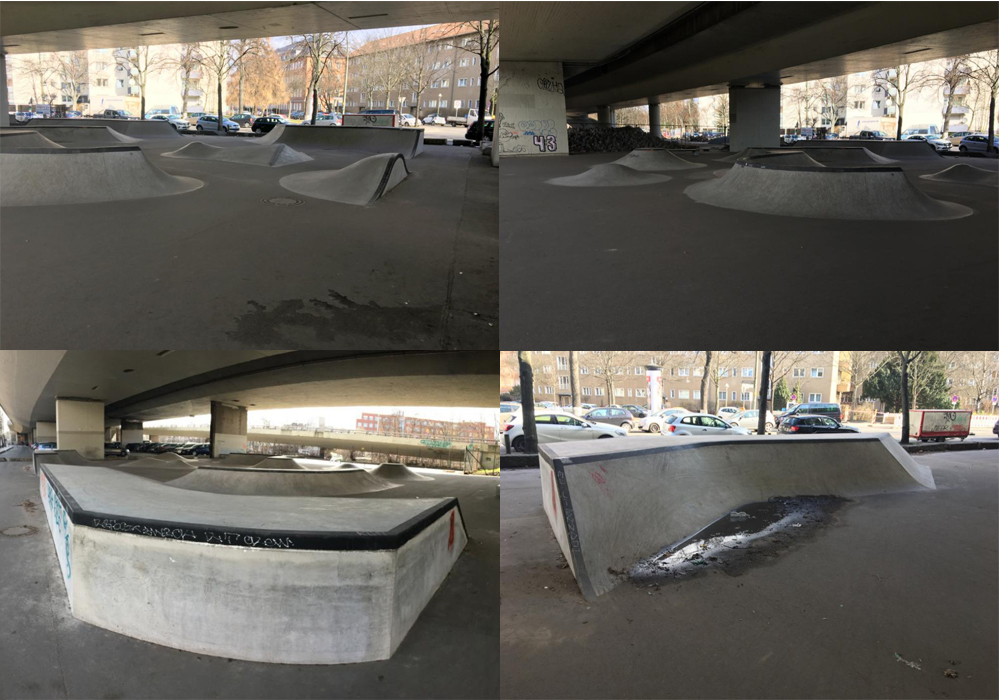 The park itself has a pretty wild set-up, if you're into transition then this place is going to be a fun one! There are loads of alternative routes to take and creative ways to skate this park, if you try to tear around this park fast then you will for sure learn how to think on your feet because there are a bunch of hips, bumps and transfers that will most likely throw you off of your planned route and land you in a totally spontaneous and fast thinking run. It's pretty fun actually.
Other than that, there is a perfect ledge and flat bar, and there is still new work being done from time to time in order to extend it.
8. SKATEHALLE BERLIN. (HALLE/SHELTER)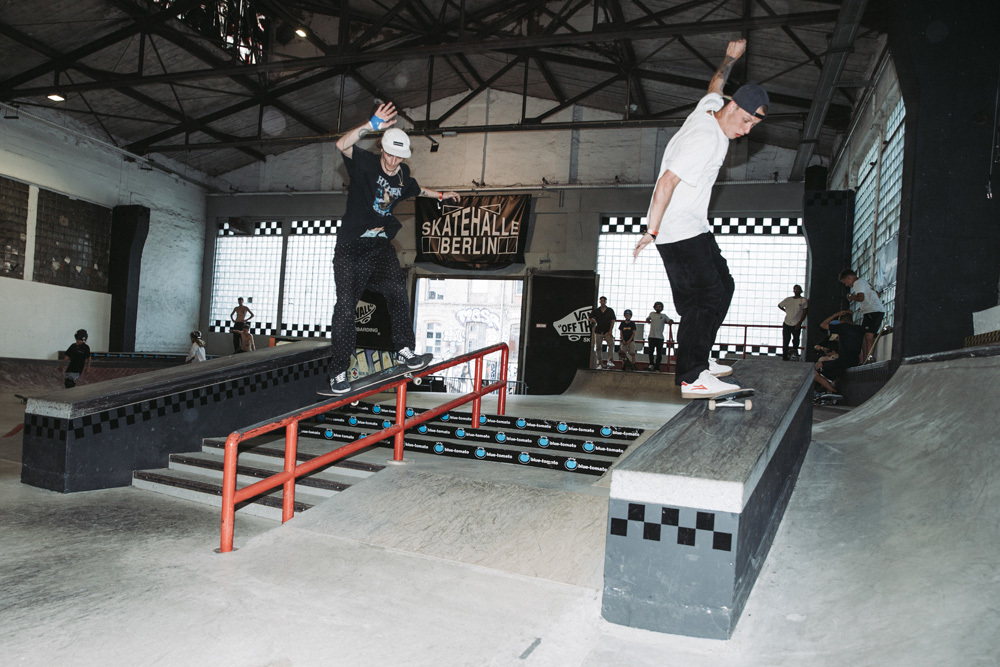 Based in the popular area of Friedrichshain, Skatehalle is in the perfect location for skaters to get together for a session especially during the cold and wet winters here in Berlin. With a small price to pay, you can be certain that the place you're going to has a cool atmosphere with a warm welcome from staff and the locals. In addition, you know in advance that the spot you want to go to is dry and at least a bit warmer.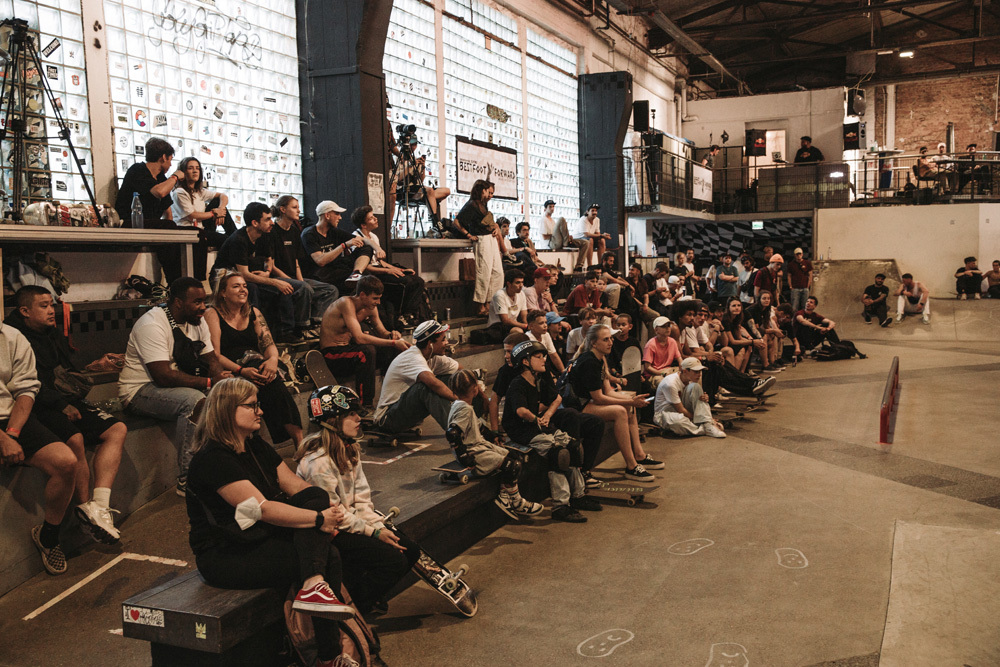 Skatehalle Berlin is a legendary indoor park which many of you will already be familiar with. Apart from its slippery floor, this is a perfect place for learning as they offer welcoming classes for those that may be at the beginner stages and who are looking to progress with the help of an experienced or sometimes even professional rider. You can also rent this park out for a private session, book a birthday party there, and people are always welcome to attend many of the events that they host throughout the year. This is an all-around thumbs up with a cool atmosphere and one of the highly recommended places to check out during your stay.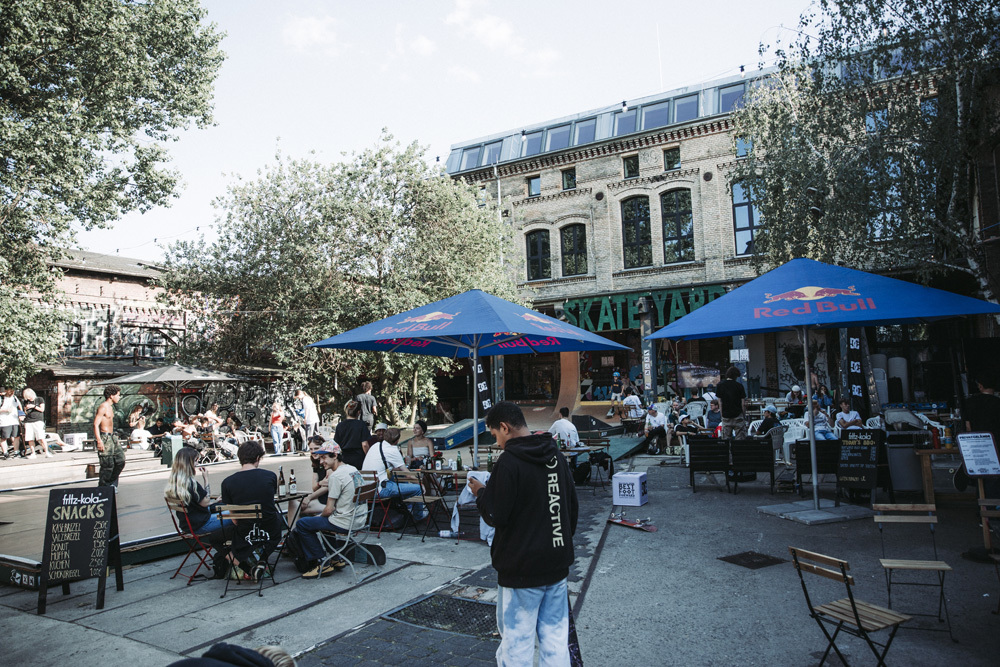 There is a famous spot known no other than 'Bänke' which is located just a stone's throw away from the Skatehalle, then there is another skatepark, which is an outdoor park known as 'Dogshit Spot.' That is also a stone's throw away from Bänke. This entire area is comically recognized by locals as 'The Bermuda Triangle.'
9. T-PARK.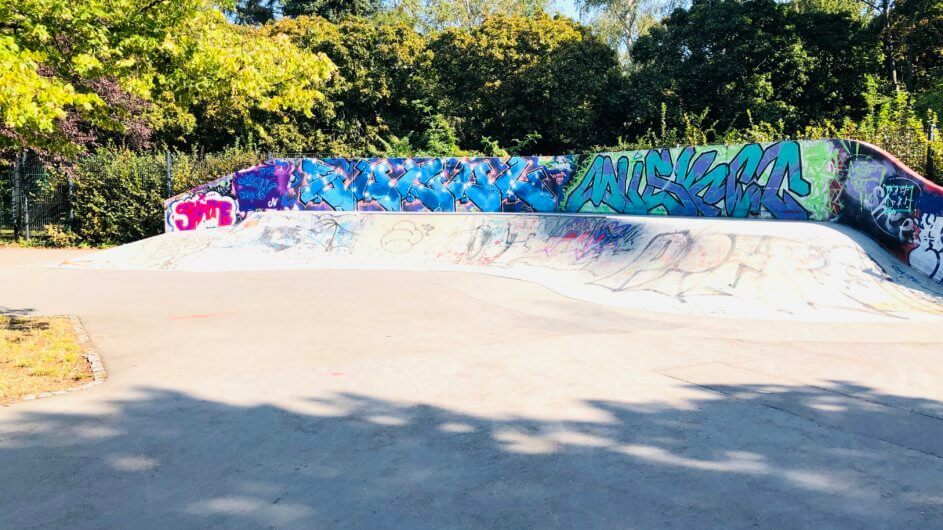 T-Park is a dope park with a lot of fun obstacles, yet it still offers a ton of open space, so there's no need to have that feeling of thinking you're constantly in someone's way. The transition on the quarterpipe there is nice and mellow, and the bumps/humps are also loads of fun even just for cruising around.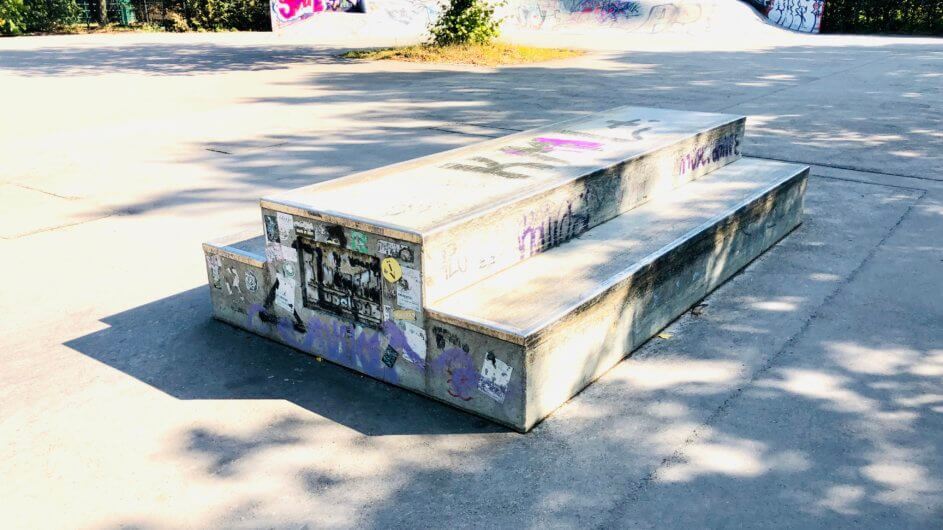 If you want to up your ledge game, this is the perfect place to advance your skills and learn some flip in flip out shit! Definitely check this park out if you can, if it looks closed when you get there, I guess you can just jump the fence. It seems to be the normal way in and out when the park security hasn't unlocked the gate.
10. MARKISCHES VIERTEL SKATEPARK.

©️Anka Stahl
This park is so sick, I have only been there a handful of times because of its location and the amount of stress one session at this park can give you. There are so many obstacles here to skate and the layout is perfect! The floor gives off a real street feeling because it's a bit rough to fall on and not as perfectly smooth as most modern outdoor parks these days.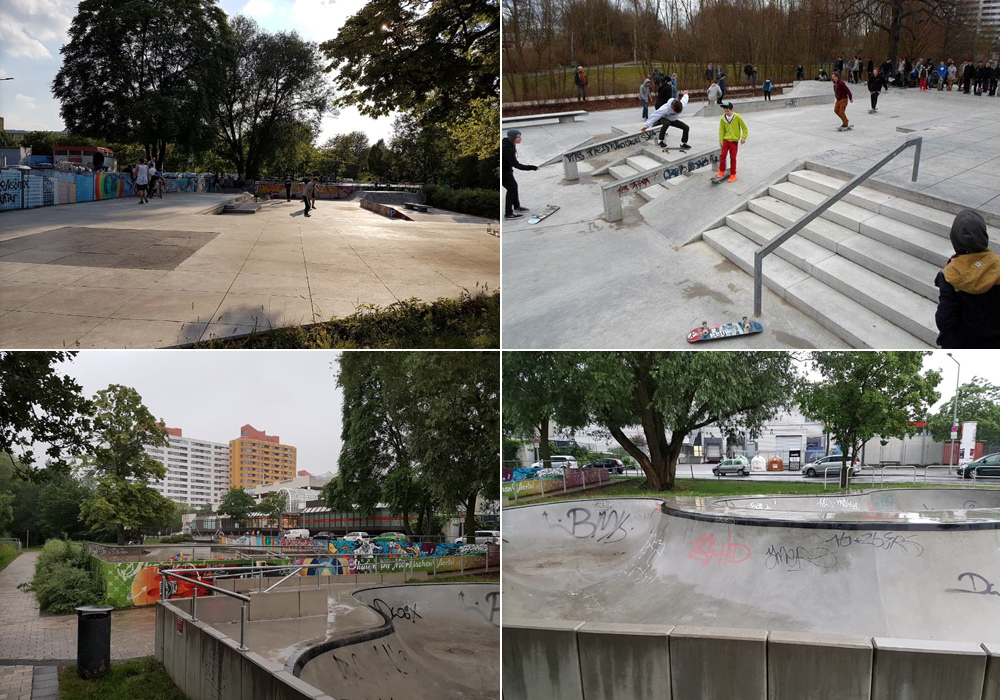 The location is a bit far out as it is based near S Spandau, and the only problem with this park is that the majority of its locals seem to be alcoholic parents or alcoholic kids looking for trouble or just generally being dickheads towards park users. I would advise leaving your bags and items in the car if you came with one, but then again I also would not trust that the car remains where you parked it either! If you do go to this park, I would for sure take a homie or two along with you and remember to keep your eyes peeled and watch over your shit. Other than that, there are seriously good sessions to be had here!
BONUS PARK 2 - MARIENFELDE SKATEPARK.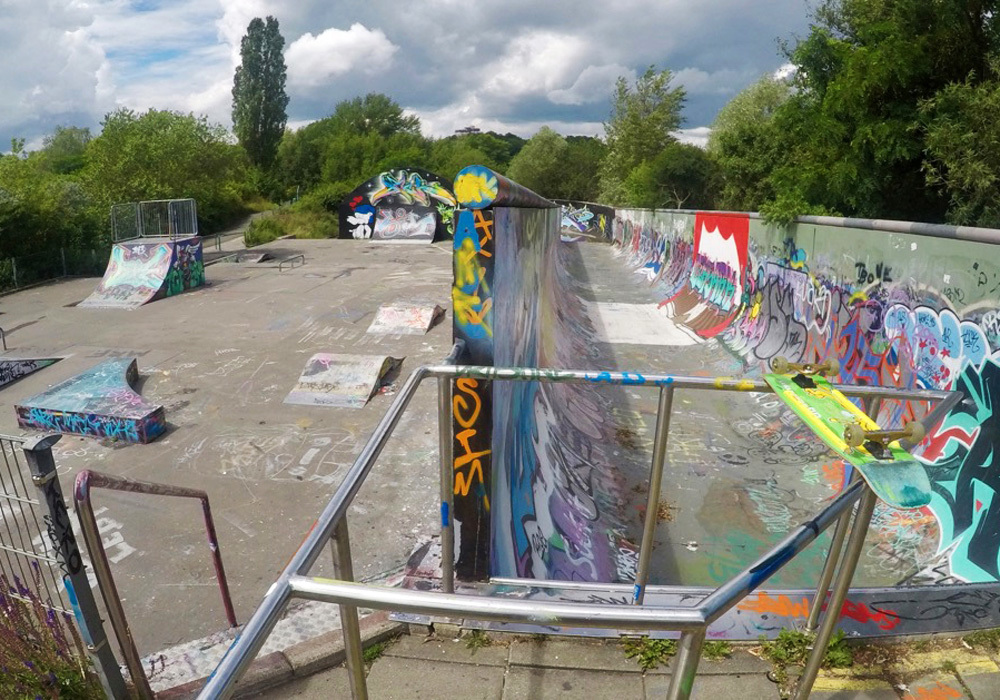 Yup… Here's another bonus park!
And for the same reasons as in the previous article, for a lot of people, It's just a little bit far out and in the middle of nowhere! Again, it is a really nice park with some unique obstacles such as the snowboarding style X-GAMES half pipe that runs alongside the entire length of the park which then ends as a huge bowled corner! I've only been to this park a couple of times because of its location and the ground there is pretty rough too, it is not the best place to take a fresh set-up or even a new deck. The floor here can only be described as a cheese grater for your skin because as soon as you make contact with the ground, you doesn't stand a chance, that bitch gets torn apart! You don't even need to be 'comin in hot' or traveling with any sort of considerable speed. One bad fall on this floor can be messed up, but it is totally worth it!
Thanks for following this thread and be sure to go ahead and pin/mark these parks to your maps so that they're ready for the next session!
TOP 10 SKATEPARKS IN BERLIN (PART 1)