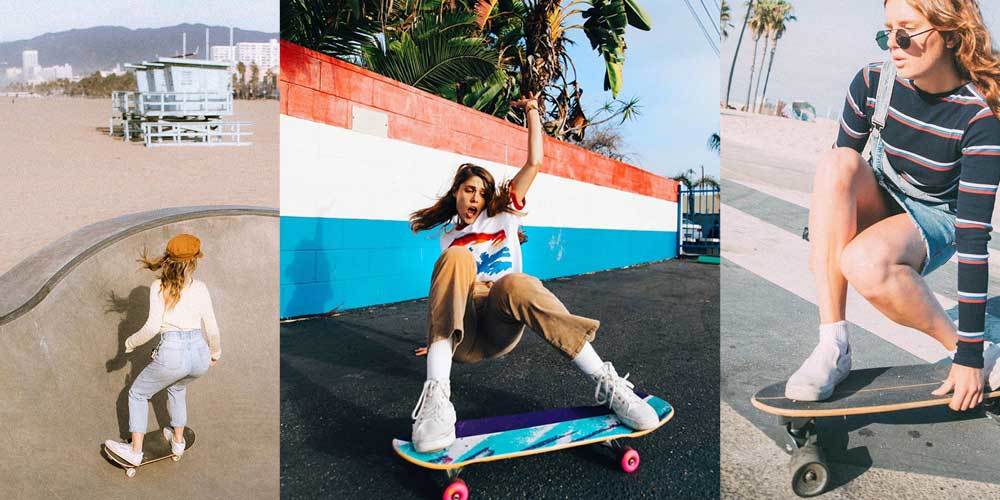 Top 10 Skater Girls To Follow On Your Instagram
Your Insta Feed just got way more interesting, trust us
Skateboarding culture is rapidly rising with dope skaters cropping up from every part of the world, but some have risen above the rest and are influencing a whole new generation of young skaters.
With the rising culture, female skateboarders are not a niche group anymore. Girls all over the world are jumping on the bandwagon. So here is our pick of top 10 female skaters who have elevated their love of skating to the next level, and who you should be following by now.
If you are looking for an inspiring, bad-ass, and artistic female skater then look no further. Sierra is one of the most elite skaters on Instagram right now. With her artsy, 70s style vibe, her feed is soothing and exhilarating to look at. If she doesn't make you want to pick up your board, we don't know what will!
If traveling is on your bucket list, then no one can inspire you any further than our girl Paulina. Her wanderlust has clearly been fulfilled and will make you insanely jealous as she skates her way around the globe. Her picture-perfect feed is something every rider wishes they have, and no one has embodied the hashtag #skatelikeagirl perfectly like her.
Skaters are often known to combine their love of art with their passion and Elise is proof of that. The young designer and photographer by profession has created a dope feed and has managed to combine her sick moves with girlish, pastels colors. Elise's world is inspiring and her update on other female skaters is also heartening.
Now this one is slightly different from the ones on the list already. This account is owned by Pacific Tribe who build stunning wooden boards, and the owner/photographer Mark Swan promotes them through stunning, female, riders. Using his photography skills he has managed to capture stunning, bad-ass women on boards in their element. This Instagram feed is definitely worth following.
Filmmaker Natalie Pluto has to be one of the most awe-inspiring skaters in the business. She has been around a long time and has managed to become a top Youtuber, but has recently become an Instagram celebrity in her own right. Her longboard freestyle dancing clips have taken the Insta world by storm and has popularised the #longboarddancing clips.
Originally from France, this rider has managed to shred her way to Dana Post CA. If you are looking for a skateboarder who exudes good vibes, look no further. Her feed is all about joy and happiness, even her own lifestyle brand, Surf Locos, donates a portion of their sales to ocean conservation programs.
No one shows off the old school aesthetic as well as Elizabeth. All of her pictures are based around the sun, sand, and skating. Her feed is definitely going to encourage all female skaters out there to skate, we mean look at her feed! How can you not?
Now here is the girl who is credited with starting it all. Leticia Bufoni has to be one of the most famous female skateboarders out there right now. Her journey is awe-inspiring. From winning skate contests, traveling the world, collaborating with top brands and artists and building her own brand shows how far a girl's determination can take you.
We admit it, this is not alone female skater but it would be a crime to not add the empowering GRLSWIRL community Instagram, to this list. This women-run online community is a skate crew and have crews in different parts of the county. The one we've been obsessed with is the original crew Instagram from Venice Beach CA. Their mission is clear, to empower women through skating and they have no doubt crushed their goal.
Similar to GRLSWIRL, Longboard Girls Crew are also a skate crew created and run by women. The crew began in Madrid 2010, and has now expanded to 180 countries where they have organized girl meets and built a business. The founder, Valeria Kechichan, has also hosted a Ted Talk. Nothing can encourage a female rider more than an amazing crew, and with Longboard Girls Crew behind you there is no looking back!