Augusto Akio Talks Contest Life and Vert Passion
"Even if you are doing great, you got to respect the course."
Pro skater Augusto Akio, 22, is the life of the party. At this year's World Skateboarding Championships in Sharjah, Augusto found himself catapulted into the international spotlight. In the Men's Final Park competition, he took 2nd place and earned an eye-watering $25.000.
We met Augusto at Vert Attack 2023 in Malmö, Sweden. As a sponsored skater since he was a kid, Augusto has learned a lot. In this interview, we talk about contest life, his skate crew Low-Pressure Family, his obsession with juggling, illegal things in his hometown Curitiba, and his new pro model skate shoe.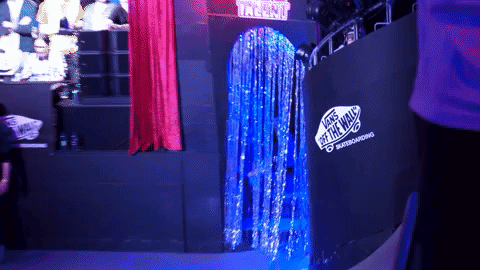 Augusto entering the Vert Attack 2023 finals
Let's talk Vert Attack 2023; what's your favorite moment?
When I arrived in Europe, my luggage got lost in Copenhagen. It was kind of stressful. From Brazil, it's a long way. But my luggage didn't run with me. When I got there, I was stressed. I felt angry and sad because I didn't have my clothes. Luckily, I took my board and juggling stuff in my carry-on. So I was fine. The most important things I had with me. The juggles and the board.
So when I got to Vert Attack, the first thing I saw was Rodney (Rodney Mead, a skateboard instructor from the US, editor's note), skating the second heat. Seeing Rodney skate reminded me of all the skateboarding contests I went to with Rod screaming, clapping, and throwing his arms up. I forgot about my luggage and everything else because of that energy. I was there. Getting there was the best part.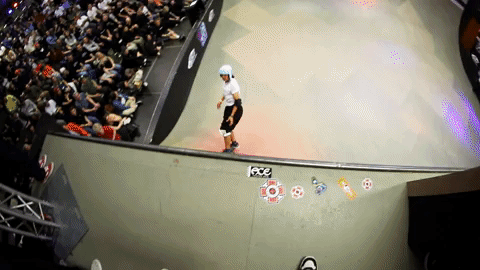 Rodney Mead (with the red hat) getting psyched on Augusto's run
And you had to wear someone else's helmet?
My helmet was in the luggage. So on the first day of skating, Rodney let me borrow his. And then, on the other days, I asked John (the VA contest organizer, editor's note) for a helmet, and he gave me the Official Vert Attack Edition 12 helmet, specially created for that event. And it's like a very special Vert Attack for me, I like it so much!
Was this your first Vert Attack?
No, I think my first time was Vert Attack 2017. But this was the first time that I made the finals.
Do you compete for the fun or the result?
It's important that it's both. Because if I just go for the results, I'll be so frustrated. I'll have nothing else if I don't get the result, right? I love being in the crowd. I love having my friends with me, so I like it for fun too.
Do you get nervous before a contest?
Every time it's different. But for sure, I get a little nervous.
When does it kick in? A day before. A week earlier, or just when you are actually at the contest?
It depends. Sometimes right before dropping in, I feel the nervousness. But I don't overthink it, you know, just let it go. Do what you want to do. Do what you like to do. And I like skateboarding. I love skateboarding.
Did you party hard in Malmö or stay sober during these trips?
After the Vert Attack this year, I went to a party but didn't drink at all because I like to keep my body good for the next day. Party, yeah, for sure. I like to celebrate, and especially when I'm with my friends, it's always better to be with your friends.
Are you into booze or weed?
Oh, not at all. I like to be good for the following days. Don't get a hangover!
You took second place at the World Skate Skateboarding Championships; what did your mom say?
I don't remember what my mom said to me. But everyone got stoked for me. It was great. I got stoked for myself. All my friends, everyone sent a good message. Saying congrats, man, you deserve that. You know, I feel like everything that I did in skateboarding made me get that result.
"I feel like everything that I did in skateboarding made me get that result."
Yeah, for sure. And did you expect that third spot?
No, not at all. You know, it was a tough contest. There were qualifyings, quarterfinals, semifinals, and finals. And a lot of people. So I wasn't expecting that. But I can feel that it didn't just drop in my hands. You know, I worked hard for it.
With your first-ever contest prize money, what did you buy?
My first prize money? It took a few days to get to my bank account. So I didn't spend it all at once; I saved it and used it for travel because traveling is expensive, especially if it's out of the country. So for sure, try to keep the money and have enough to travel.
Wise decision! What's been the best contest you ever went to?
The best contest I ever went to? That's a tricky question. Maybe Vert Attack!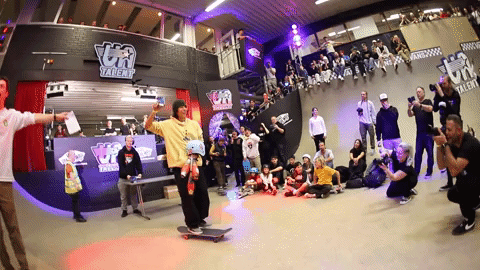 Augusto taking 4th place at Vert Attack Pro Am Open
But I also love the Brazilian contests. We have a mini ramp pro contest. That is super fun because a lot of transition skaters and a lot of street skaters come to the event. A great mix. It was a big party.
What was the worst thing that's happened to you at a contest? Did something really shitty ever happen?
The worst thing that happened to me was, I think, in 2018, something like that. I did poorly at a park contest in Brazil. And I couldn't make the finals or even the semifinals. I had gone to Sao Paulo to skate at the Vans skate park there. It was a national contest in Brazil, and I was skating super good in the skate park. I was, like, cruising fast and doing my best tricks. So I was sure that I would make it to the semis and the finals and get a good result.
Yeah, but on my first run of the qualifying, I went in with too much energy. You know, it was too much. And then I pushed it very hard to roll a very fast back smith grind. And I remember the next trick was a body jar. And I was doing high body jars, like on the face. And then, on one, I went even higher, like head-high. And then when I hit the tail it hit only part of the tail, not the full-back. And then the board over-rotated a little bit before dropping in. So as I dropped in it made my body rotate. I hurt my butt really hard on the ground, super hard. And then I hit my head super hard and injured my hand. After that, I couldn't move my leg well anymore and couldn't compete for the rest of the contest.
And because of that thing happening, I learned that, even if you are doing great, you got to respect the course. You got to be respectful because I was too hungry then, and I paid the price.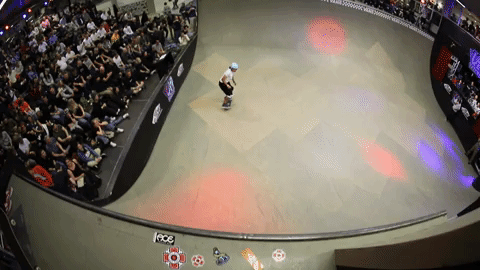 Half cab blunt front 180 back in, at the Vert Attack 2023 finals
Do you prefer vert skating to street skating?
I like every kind of skating. But one of my favorite disciplines is vert. Yeah. I can feel the tricks. I can imagine the tricks. So my favorite is Vert.
When did you start skateboarding?
In 2007 when I was seven years old, I saw skateboarding on TV. It was very close to Christmas, so I asked my mom for a skateboard as a Christmas present. This is how I started skating.
It seems a lot of good skaters don't like the pressure of professional skateboarding. Going to the training sessions, schedules, and rules. How does it feel for you? Don't you mind the pressure that comes with professional skateboarding?
I feel like it's hard for everyone. It's hard to be a professional skateboarder, but also, it's hard to live life, you know? I see a lot of people here in Brazil. People that don't have too much money. People that don't have too many opportunities in their lives. So. I feel glad to have everything I have—sponsors, a family supporting me, and friends skating with me. I feel so happy about it; it motivates me to keep going and doing my best. Doing what I like, what I love. That is having fun.
How many hours do you skate every day?
I skate for two hours every day. But, you know, sometimes the body asks for a rest. So yeah, and also, a few days ago, there was an amateur skate contest here in my hometown. I had some friends from other towns and cities visiting. So that time, I couldn't practice too much because I was taking care of everyone, giving everyone a ride to the skate park and back home. So I left skateboarding during that time.
I like to skate on the streets sometimes. That is not training, but I feel like everything you do in skateboarding makes you a better skater. If you know how to pop your tail, it's not like straight making you better on transition, but it is more that you know about skateboarding.
"I don't overthink it, you know, just let it go."

You don't look Brazilian; what are your family roots?
I am Brazilian because I'm born in Brazil. But my grandfather was born in Japan.
Are both of your parents Brazilian?
Yes, both were born in Brazil. But my mom, she's like 100% Japanese blood. And my father, he's zero Japanese.
Did your parents focus on you having a career in skateboarding, or did that happen naturally?
They always supported me, but most came from myself. But without them, I wouldn't be who I am today.
They didn't want you to be a pro skater?
Not at all. I feel like my mom would like me to be a doctor or something like that. But my father always tells me that no matter what I would like to do, I must be a good person.
Yeah, shout out to your Dad. How much time do you spend traveling a year?
I feel like I spend one-third of a year out of my hometown.
Traveling is always good, right?
Because of it, I enjoy it better when I'm back home. So it gives a lot of value to my time at home.
What are you doing when you're not skating?
Juggling.
And when you're not juggling?
One of my favorite things to do is to eat; I like eating so much. I also often spend time with my friends here in Curitiba, with the Low-Pressure family. I've been skating a lot since I came back home from Europe. But also, I'm not just skating like straight skating, skating, skating. I'm having fun with my friends, too. Here in Brazil, in my hometown, I have a skateboard crew. We just posted a full video. It's a one-hour video we called LowMovie. It's now available on YouTube. We did a party to celebrate it. Now it's online.
And do you have time for girls?
For girls. Yes, Yes. Yes. I like to spend my time with girls, too.
Are you doing any other sports besides skateboarding?
Um, juggling is a sport, too, right? Yeah.
No other sport?
Not at all.
How did you get into juggling?
Oh, once I hurt my hip, I barely was able to walk. I had to stop skating for like three months. Then, after one month of not skating, I started throwing things in the air.
Do you teach yourself?
Yes. Yes. The basics I learned by myself. And then I started meeting people that knew some tricks and they tried to teach me. You know, like skateboarding.
Cool. And since how many years have you been juggling now?
Almost two years. In June/July, it will be two years of juggling.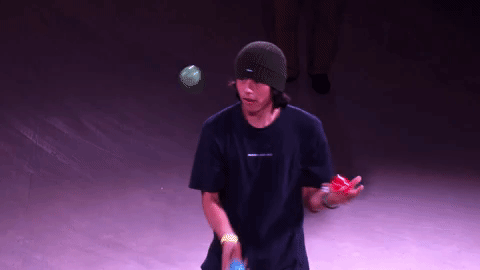 Augusto juggling during Vert Attack
On Instagram, I saw you're promoting a skate shoe. Tell us about it.
Wow, yeah I ride for Hawks. It is a Brazilian clothing and shoe brand. I have been riding for them since I was 14, something like that. So it's almost nine years since we've been working together. And after some good results in Sharjah and participation in some big contests like X Games or Vert Attack, the brand wanted to make a pro model, and we started working on it.
We were designing a shoe, but at first, it wasn't something we felt would be a good-selling shoe for skating. So they decided to restart working on it. That's why it took so long. I have been riding for them for almost nine years, and just right now, the shoe it's coming. My first pro model and I'm super stoked about that. I'm super glad that they're making it for me.
I'm already using it and I like it so much. It fits really well. And in a few months, in June or July, it will be released in Brazilian stores. It will only be available in Brazil.
That is pretty awesome. Did you take part in the design process?
Not that I designed it, but they asked me what I like in a shoe, what I don't like, and what I feel the shoe should have. Yeah.
It's not very low, but it's not a high top either. So in the design, they tried to include my love for juggling. The inside of the shoe, it's like a circus, you know, a circus tent. And it has a special rubber grip to make it more resistant.
You're 22, and you already have your pro model. That is pretty insane.
It is. It is. Wow.
Why do people call you Japinha? What does it mean?
When I was young, when I was seven, eight years old, they started calling me Japinha. In Portuguese, it means, Little Japanese Guy.
What's the best about your hometown Curitiba?
Friends! Yes, for sure. My Low-Pressure Family, and also other skaters and other friends. I like it here. I know a lot of people, and I feel comfortable here.
Can you imagine living outside Brazil at some point, in the States or Japan?
Maybe spend some time there, like a month, maybe three months. But I can't imagine myself moving out of Brazil, out of Curitiba especially.
In the past, Brazil has had a reputation for its high crime rate. Did something sketchy ever happen to you?
It's safe. Nothing terrible, like someone trying to rob me or something like that has happened to me yet here in Curitiba. Because I'm always with my board or juggling stuff, I try to be respectful to everyone, and it doesn't matter if it's someone rich or poor. I try to be a good person. So i can't say much about crime; nothing terrible has happened to me here in Coritiba.
What's been the most illegal thing you ever did?
When the pandemic hit, I was driving without a driver's license. But just because I didn't want to take the bus or anything else.
So you don't have a driving license?
Nowadays, I have a driving license.
Before you didn't? And then you just took your parent's car?
My brother's car.
And he knew that. Or you just took it?
Yes, he knew. We were sharing the car. I was going to the skate park, giving him a ride to his work, then getting the car to go to the skate park.
Does your brother also skate?
No, he doesn't skate. He does rollerblading. So that's skating, too, right? He's two years older than me. I live with my brother; we share a small home.
Do you have more siblings?
We have two half-sisters. They are just from the same father.
Do you party a lot?
Nowadays, I don't. I don't feel the vibe to go to parties, get drunk, or everything else. I'm more on the skateboarding vibe.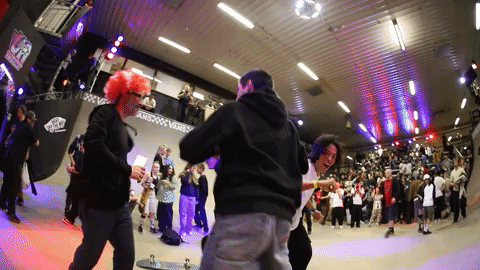 Augusto moshing with 1st Place winner Jesse Thomas after the Vert Attack finals
But you did party a lot when you were younger?
Yes.
Are you already over it?
Kind of.
It's like the same thing I did in that contest: I was too hungry. When you are too hungry to party, it gets boring to go to parties.
Yeah, for sure. Did you ever experiment with drugs?
At the first parties I went to; I tried things my friends were doing. Nothing bad happened.
What kind of things were they doing?
You know, there is a thing that we call Loló.
What is it?
Loló? It's something like that. I don't know how to explain it.
What do you do with it? Do you drink it or sniff it?
You smell it.
And then you get high?
Yeah, you get, like, dizzy.
Okay. Interesting. And what's been your favorite drug?
Weed. Yes.
But now you don't smoke weed anymore.
I do, just to celebrate special times.
Do you think you're an optimist?
Yes, I do.
Sometimes I'm not too optimistic about myself. Sometimes I feel like I'm not good enough or something like that. But in general, I'm very optimistic.
Are you a chaotic person, or are you a very like, have your shit together?
Not sure. Maybe half and half? I don't know. Perhaps more chaotic than organized.
As an athlete, are you following healthy eating habits?
Yes. I try to eat well. I a lot of salad, to get good nutrients in my body. I try to follow a good diet.
And can you cook? Do you cook your meals yourself?
Not every day. But my brother cooks very well. So at home, he cooks—more than me.
As a pro skater, you need a lot of equipment, boards, and whatever. Do you get all of your equipment from your sponsors for free?
Yeah, most of them. I do have a skate shop that sponsors me. So I can get, like, trucks. Bearings, everything else. And I do have a board sponsor too. And then Taylor (Adam Taylor, a Vert skater) hooks me up with 187 Pads and also helps me with the Pro-Tec helmets. So I'm glad for everyone that helps me to keep on skating with good equipment.
Who pays for your trips? Your sponsors?
Most of the time I do it myself. Only like when I go to Hocks hometown in the extreme south of Brazil. When I go there, they usually pay for my trip, like a hotel, flight tickets, and food. But only when I go to their hometown.
And once, I went to the Tjøme Galla in Norway, and on that trip, everything was paid for by the event. It was super fun. Great time. Awesome time. One of the best times in my life.
When did you get your first sponsorship?
When I was 11, something like that. Dropdead, a board Company. It was super fun being part of Dropdead, and still, nowadays, I feel like I'm part of it. Not riding for them, but, you know, as part of the skateboarding family.
Who is your main sponsor?
Hocks.
And what's the next contest on your list? Are you going on another skate trip?
Yes. Next week I will go on a practice session in Argentina. But after that, I will travel to Japan. It will be my first time visiting Japan, and I will attend the X games there.
We'll keep our fingers crossed for you, Augusto; thanks for the interview!
Follow Augusto on Instagram @augakio
---
Watch Augusto at Vert Attack 2023 below: