Cuba Skate: Pushing Wood in Havana
We interview Cuba Skate founder Miles Jackson.
Waves crash against the world-famous "Malecon," Havana's seawall esplanade, run-down buildings, palm trees, and classic American cars from the 50's sputter by. The familiar sound of wheels on concrete seems out of place in a city stuck in a past that predates the invention of skateboarding. Havana, Cuba is a street skaters paradise except for the off-putting reality that until a few years ago it was almost impossible to get a skateboard anywhere in the country. Kids started fashioning home-made boards out of scrap wood and any wheels they could find. That all changed when Miles Jackson, the founder of Cuba Skate, started skating the streets of Havana on an Erasmus exchange. He quickly found a family within Havana's few skaters and decided to begin a program that now donates over $100,000 in boards, shoes, and skatepark construction supplies per year.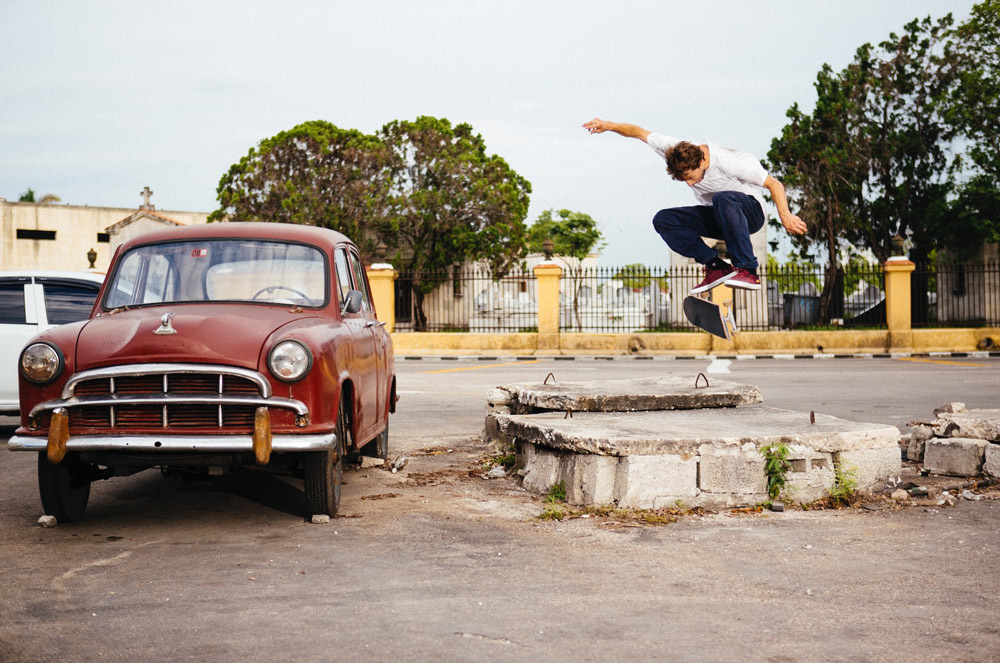 When I first arrived in Havana in 2011, I had briefly heard of Miles and the Cuban Skaters but I was not able to get in touch with them before leaving the US. Cuban WLAN is notoriously bad and you can really only access it from internet cafes and some public spaces. Nevertheless, the second the cab driver saw my board he immediately offered to take me to the skatepark. I asked if he knew where I could find Miles and he responded, "sure, do you want me to drop you off at his house?"
It's one thing to visit Havana and instantly travel back in time, but the experience is magnified when you get to skate with some of the coolest skaters surrounded by communist history. Ultimately, this is one of the greatest parts about skating. You can go anywhere in the world and immediately find family united by a slab of wood and some rubber.
A unique variable in the Cuban skating scene is the political climate that surrounds simple things such as the importation of skateboards and materials and finding spots. Not to mention that there's a duality between the freedom that skateboarding presents and the self and government-imposed censorship in terms of artistic and political expression. It's not an understatement that skating has long been connected to political and artistic movements that challenge authority and champion freedom of expression.
What Cuba Skate does:
It's now been ten years since I first met Miles and the gang so I thought what better way to celebrate a decade than by catching up with the man himself:
Miles, It's been 10 years since we first met in Havana. How has Cuba Skate developed over the decade and what does the next decade hold for you and Cuban skaters?
A lot of work, meetings, patience, partnerships, and collaboration. And a lot of trial and error, nothing happened overnight and each and every year we've learned from our mistakes and refocused to expand our programs.
In the next 10 years, we look to continue pushing forward and growing the Cuban skate community. More female skaters, more skaters in rural provinces, an official skatepark in Havana, more DIY builds, expand upon our woodshop, increase our "city clean up" programs, and nurture and grow our relationship with the Cuban communities.
How have you overcome the challenge of getting over 8,500 skateboards into Cuba?
Partnerships, volunteers, and a lot of overweight baggage fees. We still can't ship to Cuba from the States because of the US-Cuba Trade Embargo. So every single skateboard, pair of shoes, etc. has been hand-delivered by volunteers and CS staff. I personally have been to Cuba 50 or more times, and each and every trip I bring a few suitcases and tons of gear.
As much as we appreciate support, we've shifted our ask to financial support. We are grateful and very lucky to have so much support from the skateboarding industry. Companies like DC Shoes, New Balance, VANS, DLXSF, Paterson, FTC, Arts-N-Rec, Familia, Prestige, Crushed, Baker, so so many brands, shops, and pros back our mission.
So we've stopped receiving used decks and products and encouraged people who want to be involved to donate financially. Here's why... we get endless product from the industry, and the cost of a skate deck is $50. Instead of having someone send a used deck, donate $50 and we can build 5 skate decks by hand in Cuba. Our goal moving forward is to achieve a 1:1 model, where for every skate deck donated by the industry, we aim to build 1 skate deck in Cuba.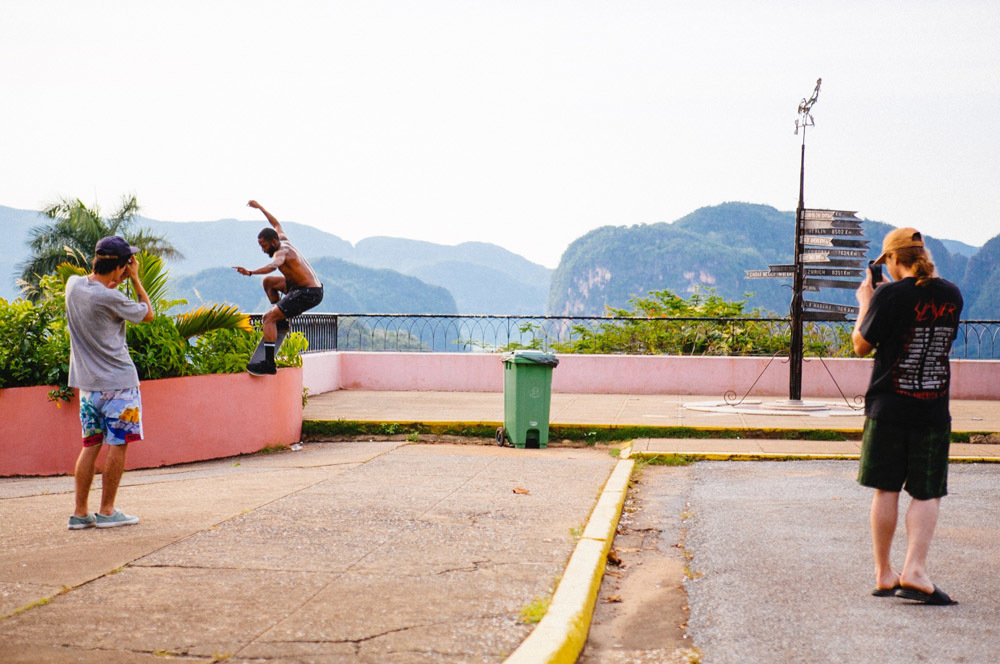 Given the political climate over the past four years, and a move toward right-wing conservative politics in the US, I wanted to ask how the political situation in Cuba shapes how you work with skaters and how Cuban skaters react to their political surroundings? What has changed politically in Cuba and how have skaters benefitted or been negatively affected by those changes?
Politics is politics, you know? We are rooted in youth development and have stayed true to being apolitical. We absolutely have to comply with the Cuban-American political situation, but we've never allowed that to limit our potential.
I remember when I was in Havana there was a spat of racism at one point when the cops came to harass one skater based on the fact that he was black. They accused him of being a drug-dealer. Is this still a reality in Havana when dealing with authorities?
I don't recall that situation, so I can't comment. What I will say is that there are global issues with police in regards to skateboarding and race. In Cuba, the friction with police is certainly more pacific in relation to what's happening in America.
I've followed a few skaters that I met on my trip to Cuba and at least one has left Cuba for good. Do you think Cuba Skate and skateboarding, in general, can be a catalyst for Cuban kids to pick up and explore the world?
The goal of Cuba Skate is to give youth the tools to skate thru life. We aim to provide youth and young adults with the skills and aptitude to take on life when they are not skateboarding.
A lot of Cubans leave the island for Miami and other parts of the world. While it's a difficult reality to uproot, I am humbled by the bravery and dedication of these Cubans to search for better financial opportunities overseas and to support their families on the island from afar.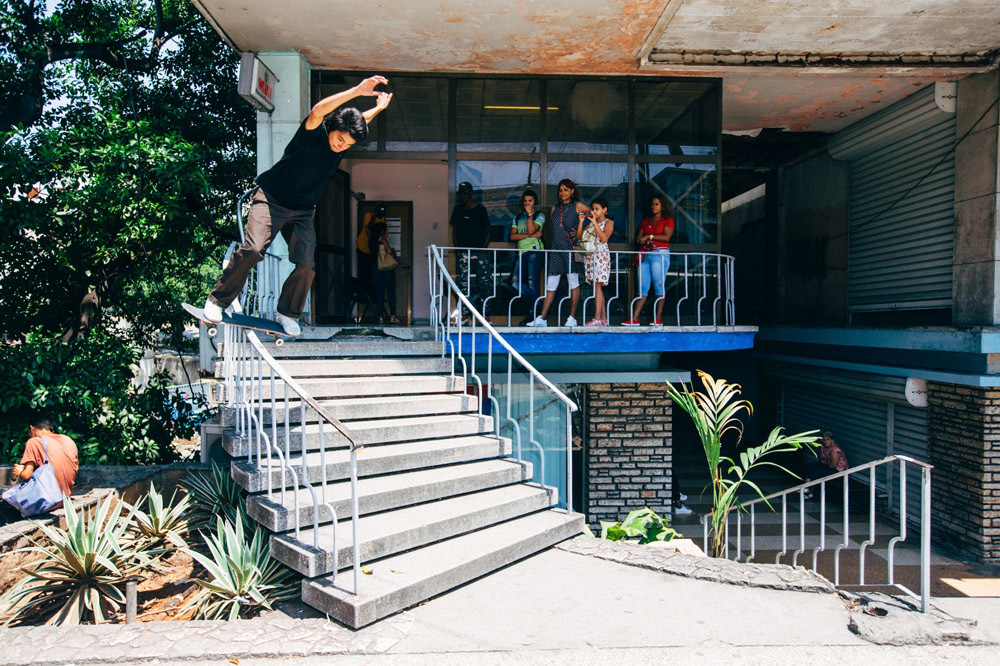 What would you say is Cuba Skate's greatest achievement to date?
Honestly (and humbly), we've done so much. Delivering thousands of skateboards and skateboarding materials is a huge and ongoing milestone. Creating cultural exchanges and bringing the world's best pro skaters to Cuba has been a rewarding experience not only for the pros but also for our team and participants in Cuba.
What I'm most proud of are our programs. Building a DIY park has been no easy feat, and I'm so impressed by our staff that continues to build. We repurposed an abandoned gymnasium and it's hands down one of the most remarkable DIY parks worldwide. You can ask any of the Cubans or pro skaters that's been there. And that's because of our hard work and the stewardship of volunteers who have come there to mix cement with us.
I'm equally proud of our woodshop cooperative that's been up and running for 5 years now. We began delivering power tools, a wood press, and a handful of other tools and resources to manufacture and recycle skateboards. Seeing what our staff has done at the coop is incredible.
And lastly, our recent program in "championing environmental sustainability" with local partners in Cuba and grant funding from the VF Foundation. We send staff and participants to collect waste from beaches, rivers, and city plazas. In under a year, we've collected nearly 10+ tons of waste. Beyond protecting Cuba's shorelines and creating mindfulness for recycling, the waste is sorted and recycled into "plastic lumbers," which are then made into picnic tables, benches, and other skate-able items. Our goal in the next year is to create the world's first-ever indoor, recycled plastic skatepark.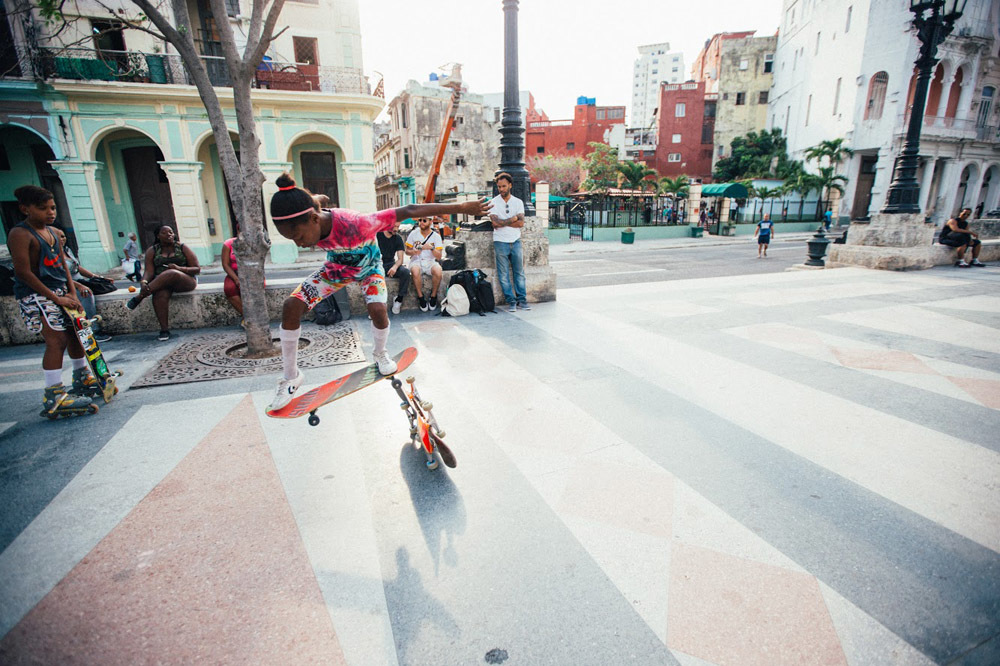 When are we going to get more skate parts and what collaborations are coming in the future with Cuba Skate and Cuban skaters in general?
We are always pushing forward and finding creative ways to grow. We are currently brainstorming and patiently waiting to return to Cuba once we can. We were disappointed to have had to indefinitely postpone our 10th anniversary and the first-ever Havana Skate Festival, but we look forward to putting that back on the calendar when the time is right. Meanwhile, our staff in Cuba continues to run operations and programs until it is safe and allowable for us to return.
How does the Cuban skate community connect with the rest of the world and how can we amplify the scene?
Instagram has been a great tool for Cubans to connect with the global community of skaters. In 2017, we launched a program with Airbnb as part of their "Social Impact Experiences." That's been an amazing opportunity to connect foreigners to our staff and programs in Cuba.
What music y'all listening to these days?
Me personally, Dipset and Griselda Gang, CCR and jazz, and always lots of oldies.
The Cubans, they're always listening to a variety of Cuban music, American rap, reggaeton, and Cimafunk!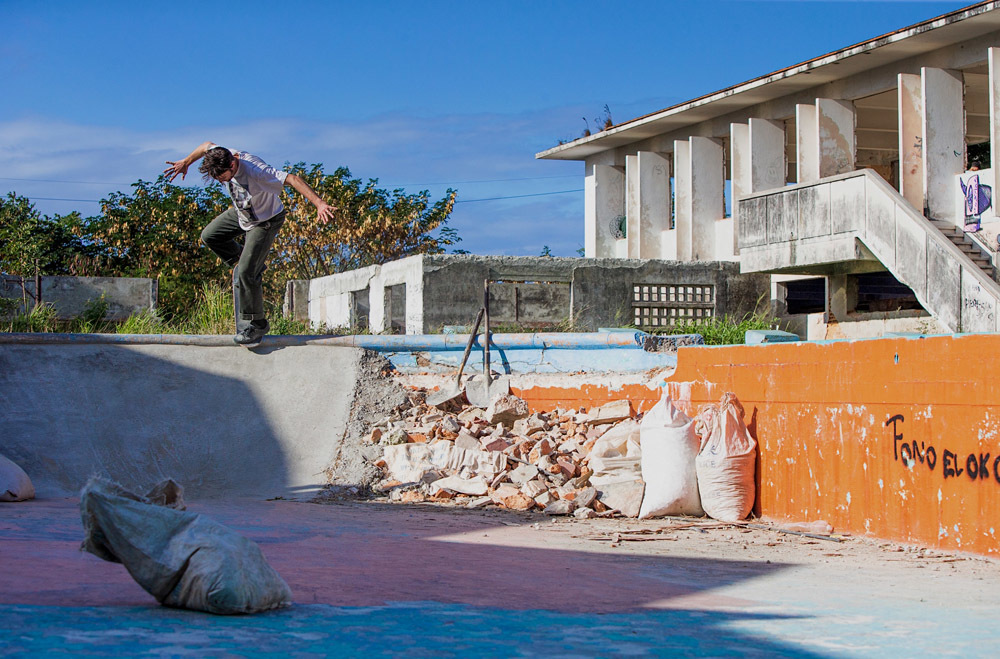 Who are the up and coming skaters in the community today?
2 kids from Acapulco -- Chiqi (Carlos) and Robertico -- are skating on another level. It's amazing to see such young Cubans who've only been skating for a couple years, and see how them being able to access materials and support from our organization and the older Cuban skaters (who suffered from not being able to break boards, or not having the luxury of access that the youth currently enjoy) has allowed them to prosper at such a level.
And there's a few young women, Sinay and Laura, who are tremendous young skaters.
I'd be remiss if I didn't shout out Orly, Ariel, Claudio, Camilo, Alberty, Reinaldo, and so many other Cuban skaters who have been skating for years now and to see them still going strong and continuing to be pioneers for the next generation.
Can we talk about the female presence in the scene?
Absolutely. 5 years ago there were hardly any females skating in Cuba. We developed partnerships with international female skaters, brought them to Cuba, hosted female-oriented programs, and continue to invest specifically in young women skaters, and they're killing it.
After COVID blows over if someone from outside of Cuba wants to find a spot where should they go?
Check out our DIY park, Ciudad Libertad!
In 2011, Cuba Skate was a small production. Just a few kids and minimal gear. Today, Cuba Skate has donated 8,500 skate decks, 11,500 pairs of shoes, and worked with over 2000 skaters! But after all, that's just numbers. What they've really done is provided thousands with access to a sport that transcends the physical. They've given a whole city access to a new way of thinking and a new way of interacting with each other. There's no doubt in my mind that Cuba Skate will continue its work for the next decade. Here are a few clips to send you on your way!
Take a look at the DIY park, Ciudad Libertad:
The 23yG team skates Havana:
Visit and donate to Cuba Skate here!